Valion Seed Tube Guards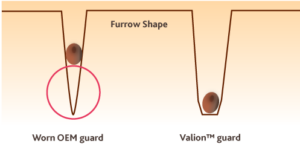 No Pinched Furrows
The Valion doesn't form the furrow by pushing soil—it doesn't drag below the blades, which would be very undesirable. Instead, the Valion keeps the lower edge of the blades at the optimum distance from each other so that the blades create a furrow of useful width, consistently, for uniform timing of emergence, resulting in higher yields.
Extreme Durability
Valion™ seed tube guards from Exapta will eliminate seed tube wear and greatly reduce blade flex to create a properly shaped furrow and improved planting depth control. These guards are perfect for no-till or high-wear conditions, or anyone who is simply tired of replacing seed tube guards so often. While intended to limit blade flex, standard OEM seed tube guards can wear substantially in just a few hours of use (esp. older John Deere & Kinze). Our chrome Valions will outlast OEM guards by 2 to 4X, so that furrows are properly shaped and seeds placed at the correct depth continuously down the row, and all the way thru the planting season.  (Valion Ultras—with tungsten carbide inlays—are discontinued for XP & ME5s, but still available for pre-XP and Kinze 2000s, while supplies last; these are a permanent fix, but not suited to rocky conditions.)
Liquid Capability
Liquid Capability Valions are also a slick way to apply liquids into the seed furrow (N/A on Kinze 3000 Valions). Here's how to make this setup as trouble-free as possible, and more affordable and durable than competitor systems: Exapta's Stainless Steel Liquid Tube Holders.
No drilling—installs with existing bolt holes
Secures plastic 1/4″ line for liquids
Keeps the small plastic line out of the blades
Prevents damage from stalks or tree limbs
Stainless steel for low corrosion
Thick-wall pipe
Note: We prefer applying liquids via Keetons. We view Keetons (or in-furrow 'seed-lock' wheels) as crucial for consistent stand establishment in no-till, and keeping those devices clean can be more of a challenge when liquids are applied ahead of them – although this is entirely dependent on liquid rate, stickiness of the liquid, and soil properties. However, many people get along just fine year after year applying liquids ahead of Keetons.
Note: Blade thickness affects the wear of any seed tube guard. Thicker blades slow the wear tremendously, because the rigidity of the blade increases as the cube of the thickness. So, it's a huge difference between 3 vs 3.5mm blades, and again between 3.5mm vs 4mm. We strongly encourage going from 3 to 3.5mm if you haven't already done so. And yet we're not so thrilled with 4mm blades (standard on Monosem's 'French' row unit) on double-disc planters. The 4mm blades don't cut soil and residue as well as the 3.5s (this is especially true on Monosems, where the 4mm blades have a shallower bevel; if you want to convert those planters to using 3.5mm blades with Deere hubs, call us for a special bolt to make this conversion work).
"Last spring we installed the new Valion seed tube guards on our 16R30 John Deere 1770 planter. We were very satisfied with the durability of the guards as well as the superior fertilizer placement. Previously we ran R-K Products guards and were very pleased. However, the Valion guard allowed us to keep a true V slot as well as place fertilizer below the seed. This helped get the fertility where it was needed, as well as keep the planter and Thompson wheels clean and working properly.  After 2,500 acres the Valions showed little wear and will be able to run for multiple seasons."
"The one thing I liked was the liquid fertilizer integration. We had built our own setup previously,  it leaked and splattered all over the planter. I didn't notice that with the Valion. When we were in hard, dry no-till conditions it seemed to keep the furrow from narrowing up."
"The Valion works really well. I was wearing out factory guards every year and we don't farm that much. I checked Valions after one year and they still looked like new. I recommend them to anyone having trouble, keep up the good work!"
"I'm a certified crop consultant who conducted my own independent comparison of seed-tube guards last season—after one season of use, here's what I found: JD = .300″ of wear; Exapta [chrome] Valion = .050″.  I like the starter fertilizer option through the Valion and highly recommend it to my customers."