Planter Parts and Equipment
For Deere XP and MaxEmerge 5 (not compatible with ExactEmerge's BrushBelt or Precision Speedtube). Protective bulge to prevent liquid tube from smearing shut or abrading away.

  

  US Patent 8,978,564
Valion seed tube guard w/ wings and bolts; for pre-XP and Kinze 2000s. Protective bulge to prevent liquid tube from smearing shut or abrading away.
Valion seed tube guard w/ wings, *oversize* bolts, bushings; for JD pre-XP & Kinze 2000 shanks with holes drilled out to 3/8".
Compatible with all OEM seed tubes, including super-size 2013 & later for EdgeVac. Kit includes 2 hex-head bolts and 2 star washers.
"I run the Valions on my planter and I can confirm they will outlast JD guards 3:1. I can't even get a full season out of the OEMs. I refer a lot of people to Exapta because of the Valions."
All About Valion Seed Tube Guards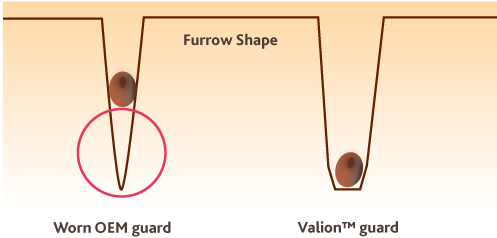 No Pinched Furrows
The Valion doesn't form the furrow by pushing soil—it doesn't drag below the blades, which would be very undesirable. Instead, the Valion keeps the lower edge of the blades at the optimum distance from each other so that the blades create a furrow of useful width, consistently, for uniform timing of emergence, resulting in higher yields.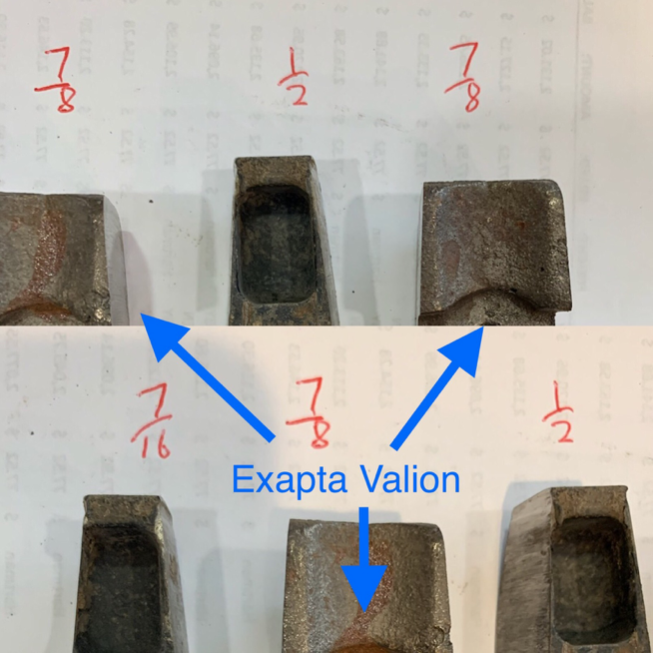 Excellent Wear Life
Side-by-side comparison of Valions vs Kinze 3000s OEM seed tube guards on a Kinze 3140 16-row planter, covering 500 acres. This is from an Exapta customer in Hooper, NE.
"I've never seen as good of seed placement on my farm as I have this season [2013]. I had installed the Valion guards, seed-lock firming wheels, and Thompson wheels with the wedge/spring assemblies. Plus, new thicker opener disks, your [seed-lock] firming wheels, and, yes, I had the planter level. And our double-crop beans germinated well & evenly thanks to the equipment from your shop. I'm thankful for your 'No-till store.' "
Extreme Durability
Valion™ seed tube guards from Exapta will eliminate seed tube wear and greatly reduce blade flex to create a properly shaped furrow and improved planting depth control. These guards are perfect for no-till or high-wear conditions, or anyone who is simply tired of replacing seed tube guards so often. While intended to limit blade flex, standard OEM seed tube guards can wear substantially in just a few hours of use (esp. older John Deere & Kinze). Our chrome Valions will outlast OEM guards by 2 to 4X, so that furrows are properly shaped and seeds placed at the correct depth continuously down the row, and all the way thru the planting season. (Valion Ultras—with tungsten carbide inlays—are discontinued for XP & ME5s, but still available for pre-XP and Kinze 2000s, while supplies last; these are a permanent fix, but not suited to rocky conditions.)
Liquid Capability
Liquid Capability Valions are also a slick way to apply liquids into the seed furrow (N/A on Kinze 3000 Valions). Here's how to make this setup as trouble-free as possible, and more affordable and durable than competitor systems: Exapta's Stainless Steel Liquid Tube Holders.
No drilling—installs with existing bolt holes
Secures plastic 1/4″ line for liquids
Keeps the small plastic line out of the blades
Prevents damage from stalks or tree limbs
Stainless steel for low corrosion
Thick-wall pipe
"Your Valions are AMAZING. I can't understand why anyone would want to continue running the JD guards — regardless of what tillage system they're using."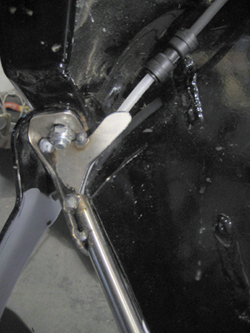 21″ Heat-resistant tubing puts connector alongside shank on Kinze 2000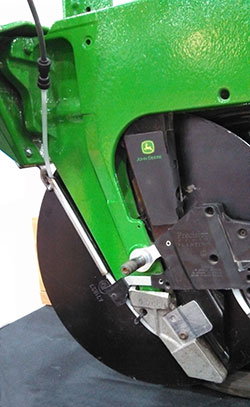 Connector alongside shank on Deere XP planter unit.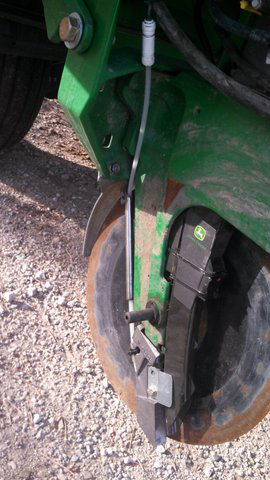 "Valions are giving me significantly more than double the wear life of OEM."
Note: We prefer applying liquids via Keetons. We view Keetons (or in-furrow 'seed-lock' wheels) as crucial for consistent stand establishment in no-till, and keeping those devices clean can be more of a challenge when liquids are applied ahead of them – although this is entirely dependent on liquid rate, stickiness of the liquid, and soil properties. However, many people get along just fine year after year applying liquids ahead of Keetons.
Note: Blade thickness affects the wear of any seed tube guard. Thicker blades slow the wear tremendously, because the rigidity of the blade increases as the cube of the thickness. So, it's a huge difference between 3 vs 3.5mm blades, and again between 3.5mm vs 4mm. We strongly encourage going from 3 to 3.5mm if you haven't already done so. And yet we're not so thrilled with 4mm blades (standard on Monosem's 'French' row unit) on double-disc planters. The 4mm blades don't cut soil and residue as well as the 3.5s (this is especially true on Monosems, where the 4mm blades have a shallower bevel; if you want to convert those planters to using 3.5mm blades with Deere hubs, call us for a special bolt to make this conversion work).
Valion Seed Tube Guards Videos
More Valion Seed Tube Guards Testimonials
"I run the Valions on my planter and I can confirm they will outlast JD guards 3:1. I can't even get a full season out of the OEMs. I refer a lot of people to Exapta because of the Valions."
"I run the Valions, heat-resistant tubing, and stainless steel protector—putting fertilizer thru them. I used to run [competitor product: OEM guards w/ tubing welded on]. I didn't have any problems with plugging and they wear so much slower than [competitor guards], so I don't have to replace the entire system every season."
"I ran 4 [competitor guard with tubing welded on] units and 8 Valion units. I will not ever use the [competitor product: OEM guards w/ tubing welded on] again. The Valions go on much easier, are sturdier and I like the way they were set up to put on liquid fertilizer. I have recommended them to others. I haven't checked to see how they've worn, but I know the JD and [competitor guard with tubing welded on] wear really fast and no longer function to hold the opening disks in alignment and I've only had them roughly 400ac, as I'm not a big farmer."
"The Valions and stainless tube holders worked really well—I'm very pleased. I used the system on close to 4,000 acres and had no problems. It's a better system than anything else I have tried in the past."
"We run a JD 1760 for corn and a JD 1780 for beans. No-till 80% of our acres. The 4 biggest things we found is you need adequate down-pressure, sharp blades, run Valions or RK seed-tube protectors (OEM seed-tube protectors wear out really fast in no-till, causing inconsistent seed depth), and a good closing system. We run Keetons with Mojo Wires and Exapta Thompson closing wheels with wedges set at 3 degrees. Another big help is running pop-up through Valions and banding some 28% over the back next to the row [behind closing wheels, off to the side]."
"I like running the starter fertilizer through your Valions much better than the system we were using before."
"I hate changing those seed tube guards on a 7000 planter—rivets, etc. I only farm 600 acres but can destroy a Deere factory guard in 1 year on a 12-row—[it gets] as narrow as the seed tube. I put Valions on before last year—can't even tell they were in the ground. I expect they will last the life of the opening disc. Those things are awesome!"
"The JD seed-tube guards are terrible—mine lasted about 300 acres before they were completely wore out the first year. I replaced them this year [2013] with the Valions—these are great and show almost no wear with around 550 acres on them. I also replaced my wore-out low-profile Keetons with the older style dry tails that are thicker [full height] and have the tear-drop shape on the end. Added the Mojo Wires from Exapta to them and am very happy. Very little wear and every seed is locked in the bottom of the vee just like they [Exapta] claim they would be. Emergence was very even—I'm very happy. I was warned [by a Precision Planting rep] that I might have buildup issues with this style Keetons and in-furrow pop-up, but no issues at all on that front…. I switched this year to running it out the bottom of the Valion—this has been much better with no plugging or kinked lines to speak of. No build-up issues on the new Keetons even with the fertilizer ahead of them."
"I am very pleased with the Valion performance. I get consistent seed depth and therefore uniform emergence. I am very happy with them! We are 100% no-till and double crop or cover crop everything."
"I've never seen as good of seed placement on my farm as I have this season [2013]. I had installed the Valion guards, seed-lock firming wheels, and Thompson wheels with the wedge/spring assemblies. Plus, new thicker opener disks, your [seed-lock] firming wheels, and, yes, I had the planter level. And our double-crop beans germinated well & evenly thanks to the equipment from your shop. I'm thankful for your 'No-till store.' "
"I really like the Valions way, way, way better than the [competitor guard with tubing welded on] I was running (wore them out at 100 ac/row). . . . Keep it up with the good products."
"The Valions worked out great. Hardly any wear on my 12/24 row planter with about 2100 acres on them— I would highly recommend them. The seed trench was shaped nicer, and no fertilizer tubes plugged. I was even more impressed with the Thompson wheels than anything! I liked how the Keetons and Thompson wheels left he seed locked in the furrow with nice loose soil over the top. They work really well in my soil conditions. They did exactly as you guys all said they would do."
"Valions are giving me significantly more than double the wear life of OEM."
"We used to fight our [competitor guards with tubes welded on]. We switched to Exapta Valions and have solved a lot of problems we used to fight. Plus, the Valions don't wear as fast as the [competitor guards]. No more [competitor guards] on our farm. Planting has been much more enjoyable since we switched to the Valions. Love your product!!"
Download Installation Instructions