No-till Drill Parts & Equipment
Closing Wheels for Drills
Thompson Wheel T44 with stub shaft, for JD 60/90/Pro-series drills. Zinc plate finish, Bolt-on star wheel = cost-effective replacement stars. Made from military-grade armor plating, for even longer wear life. Includes 1 wheel, 4 bolts, 1 spindle/shaft. For orders of 32 or more,

please call for freight truck pricing.

US Patent No 6,907,833

$

94.00

Fits most JD, Kinze, AGCO White, and Great Plains planters. Also fits JD 50-series drills; Case SDX (with seed-lock wheels); and Case P-500 drill using special bracket & torsion spring from Exapta. Includes star wheel, snap-ring & bearing (installed), flat steel shroud, dustcap.

$

145.00

Replacement wheel for T2z or T3z existing owners, hub/star with bearing and snap-ring installed. For orders of 32 or more, 

please call for freight truck pricing.

$

107.00

All About Closing Wheels for Drills

NEW: Bolt-on star wheel = cost-effective replacement stars
Zinc plating for even longer wear life 
Same proven spoke design we've used for 20 years.
Aggressive furrow closing with self-limiting depth
Creates ideal zone for crop emergence & rooting
Heavy-duty bearing with 5-yr guarantee
Doesn't overpack

 

Thompson closing wheels are an excellent upgrade for John Deere 50, 60, and 90-series drills, and bolt easily onto the original closing arms. The OEM cast closing wheels on the Deere drills have a ridiculous tendency to hop because of their weight and smoothness, and the angle of the arm's pivoting, and really hammer the soil when they land after being airborne. Even when running smoothly with low spring pressure, heavy cast closing wheels tend to seriously over-pack the soil, reducing emergence and early growth. Thompson wheels completely avoid the problem, since they weigh far less than JD and certain aftermarket wheels, and actively pull themselves into the soil.

Sizing Things Up

The bearing from a competitor's wheel setting inside the Thompson wheel's housing for its huge bearing. Our bearing features a triple-lip seal, as well as our unique patented shroud to protect the bearing face from fertilizer and water. We're so confident in our bearing arrangement, we guarantee it for 5 years.

High-Carbon Steel

The Thompson wheel's high-carbon spokes resist wear and bending for an exceptionally long life. The thinness of the wheel allows it to easily enter the soil, for excellent breakage of the sidewall. Now with zinc plating for even longer wear-life.

Bolt-on Star Wheel

The wheel uses 4 bolts to attach it to the spindle so when you wear down the wheel in the future, you can just purchase the star, and not have to buy the whole assembly. You'll spend far less money to replace a worn out Thompson wheel in the future with the new replaceable star.

An honest assessment from numerous observations by 3rd-party scientists and farmers.

* Closing wheels that don't pack the soil above the seed (a good thing) shouldn't be used without a separate in-furrow firming device (seed-lock wheel, or the Fin).
"Based on the effectiveness on the Thompson wheel, I had the best stand of soybeans with my JD 750 drill that I've ever had. And, I never had to change a bearing! I used to spend the majority of my time changing out bearings on the old cast iron wheels. Not this year. Even planting in our extreme wet conditions this spring, I had moderate to very little problems closing the trench. The T-whls did the job: closed the furrow beautifully. I think they even worked better in my double-crop soybeans."
Steve Isaacson
Cecilton, MD, Exapta customer since 2014 (JD 750 drill)
"I ran a Thompson wheel next to the stock cast closing wheels on our JD 1990 CCS drill for one season ['09]. In heavy residue, the stock wheels simply bounce over the top while the T-wheel runs smoothly and gets the slot closed. You can't beat the T-wheels on the JD 1990 drill when planting in muddy field conditions as they get the slot closed and keep the drill running." [2012 update:] "Basically, we wouldn't run a drill without them. In other words, T-wheels are standard equipment for us."
Dietrich Kastens
Herndon, KS, Exapta customer since '08 (Thompson wheels on two 42-ft JD 1890 air drills)
"When I first saw the Thompson wheels on the drill I bought, I thought: 'Crazy—No way are these thin wheels gonna do anything.' But I was wrong—they go into the soil easily and do a good job closing the furrow. After thinking more about the design, I now realize why this is."
Dustin Meyer
Houstonia, Missouri, (T-whls on JD 1850 air drill)
Comparing aftermarket spoked closing wheels: "As I get into more moist soils and heavier/bigger residue, the Thompson wheel is the only one to accomplish the job. The stock JD wheels bounce terribly, and try to smash the seed trench closed, so furrow closing is poor. The [competitor spoked wheel] is an improvement since it has dimples instead of being round like the stock wheel. Bounces less and does a better job of crumbling instead of smashing, but still smashes—much better furrow closing versus the stock wheel but still leaves furrow unclosed some. The Thompson because it's thinner and more aggressive, crumbles the furrow closed and I don't notice bouncing or the furrow being left unclosed…. I would never run the current version of the JD stock wheels again. I'm also confident that I would buy Thompsons only next go 'round."
Josh Lloyd
Oak Hill, KS, Exapta customer since '05 (Thompson wheels on one rank of JD 1890 air drill)
"I replaced 1/2 of mine last year with Thompsons and a few [competitor spoked wheels]. Replaced the remainder with Thompsons this year. Not near the bounce of OEMs and much less bounce than the [competitor]. Those solid cast closing wheels seemed to be in the air 50% of the time, then slam into the ground and are airborne again."
Larry Brunner
Missouri, (Thompson wheels on JD 1890 drill)
"I wouldn't run the air drill without Thompson closing wheels. In all conditions, and even extreme conditions, they work great!"
Chad Lindau
Hildreth, NE, Exapta customer since 2010 (T-whls on JD 1990 air drill)
"I am all Thompson closing wheels. I have 192 brand new John Deere ones that are going to be scrap unless you want a good deal on some. The Thompsons just plain work great for me in clay loam soil, no-till."
Roger Neshem
Berthold, ND, Exapta customer since 2012 (Thompson closing wheels on (2) JD 1890s)
"The Thompson wheels are doing very well. Have had a couple of neighbors and the rep from my seed company look at the field after planting, and they were really very impressed with the seed coverage. Mine is an older 750, but I rebuilt the entire lower end. Your Thompson wheels were the icing on the cake. Performs better than new. Thanks again."
Tom Faitz
Trenton, IL, Exapta customer since 2018 (Thompson wheels on JD 750 drill )
"By far the best closing wheel I have ever run (tried smooth rubber and cast iron wheels). I was having trouble covering the seed in dry conditions and in wet conditions; the OEM wheels would smear and over pack the seed. I drill into no-till bean, corn and wheat stubble. The Thompson wheels work the best in my conditions and do a tremendous job of closing the seed trench. "
Greg Kratzer
Warren, IN, Exapta customer since 2012 (JD 750 drill)
"In early 2004, Dr Dwayne Beck recommended that we replace the cast-iron closing wheels on our pair of 15-ft JD 750 drills, and mentioned the Thompson wheel as one of the better designs. We installed them on both drills, which plant, on average, 2,000 acres per year. After 9 seasons, I still have all the original bearings in them, no failures, no maintenence required. We went from having to replace the bearings in a half-dozen JD closing wheels every day, to zero repairs with the Thompson closer wheels. The Thompsons did a good closing job in our wet clay-loam soils. I retired and sold both drills this spring [2013]. Talked to both new owners this summer, neither had any closer wheel bearing problems. They seem to be like the Energizer bunny, keep going and going."
Jon Hagen
Goodrich, ND
"My drill works perfect after updating to everything you mention in your catalog. I updated my boots to the new 90 series boots, CNH SDX firming wheels, and Thompson closing wheels. It couldn't get any better."
David Penzien
Attica, MI , Exapta Customer since '09 (Thompson wheels on JD 1560 drill)
"I am very pleased—in wet, heavy clay soil, the Thompson wheels still crumbled the soil to close the seed trench. The Thompson wheels get away from the soil ribboning and are a great improvement over the Deere cast closing wheels. I have no problem recommending the Thompson wheels." In running the Thompson wheels from April '07 thru 2017, "I've got 60,000 acres on them, and have had no trouble whatsoever. But they're just about worn out."
Robert Stevenson
Kenton, Manitoba, Exapta customer since '07 (Thompson wheels on 43' JD 1895 air drill).
"We really like the Thompson wheels: We were able to run in far wetter conditions than we have in the past, and it's doing a nice job."
Alan Aufdemberge
Lincoln, KS, Exapta customer since '08 (Thompson wheels on 40-ft JD 1890)
"This is my first year running the Thompson closing wheel on our drill, and we did 50 acres of beans two weeks ago into 15+ year CRP. I was impressed with how well the seed slot was closed. Just visually I'd say it closed it 75-80% of the time… without the spiked [spoked] wheels in the past it would only be closed about 25% of the time."
Kenny Mizner, Esbon, KS
Exapta customer since 2016 (JD 1890 drill)
"The Thompson wheels do a great job. They don't hop like the cast wheels tend to do. They stay down and do the job of breaking up the sidewall and closing."
John Weinreich
Marshall, MO, Exapta customer since 2018 (T-whls on 40-ft single-rank 1990 CCS)
"I used my drill for beans for the first time this year, due to a major planter breakdown. I love what the Thompson wheels were doing on that drill. And my emergence was sometimes higher than 85%, which is pretty good for beans."
Tom Cannon
CEO
"On a new 1890 drill, I thought I'd get by with the cast closing wheels since everybody else was. After a day, I didn't like how it looked, so I called and ordered the Thompson wheels. The next time I trade drills, I'm not messing around — I'll put the Thompson wheels on immediately."
Larry Cochran
Jet, OK, Exapta customer since '07 (Thompson closing wheels on JD 1890 air drill)
"I am very pleased with the Thompson wheels—they are superior in all conditions.We left a few old [JD] ones on to see a comparison. It wasn't hard to see the advantage of the Thompson wheels."
Rod Lanier
Lethbridge, Alberta, Exapta customer since '07 (Thompson wheels on JD 1890 air drill)
"I really like the performance of the Thompson wheels. I ran the [competitor's heavy spoked closing wheel] on 2 rows and ran 2 rows of Thompsons side-by-side this past year [2009]. The [competitor] definitely bounced more than the Thompsons in all conditions. The thin design of the Thompsons, and the angle that the closing arm holds it, allow for very little down-pressure also. It seems like the Thompsons just 'pull' the dirt into the slot, whereas a heavy wider wheel still has to 'mash' the dirt to get it into the slot. I think you have a great wheel in the Thompson design—keep it up!" [2013 update:] "Love my [full set of] Thompsons on my 1860 drill. Good on deep planting, and great on shallow as well."
Jordan Reimnitz
Armour, SD, Exapta customer since '09 (Thompson wheels on JD 1860 air drill)
"I've always been impressed with Exapta products. Your products have improved my stands tremendously. I run Thompson wheels on my 8-row JD planter along with Keetons and Mojo Wires, but where I've been most impressed is the Thompson wheels I have on my 1890 JD drill. I sow a lot beans and wheat in tough, wet conditions—I get better stands and emergence than I have in the past, once I installed the Thompson wheels."
Eugene Billenstein
Ansonia, OH, Exapta customer since 2010
"We outfitted the left side of the drill with Thompson wheels. You can visually see how well they run—smooth and do not hop like the OEM cast closing wheels do, so we know they are doing a better job closing the seed trench and not packing. Sometimes you can see the trench wide open with the cast wheels, but the Thompsons consistently cover the seed and we know we aren't over-packing."
Eric Chvatal
Prague, NE, Exapta customer since 2017 (43-ft JD 1990 single-rank CCS)
"The Thompson wheels worked great this fall! I used the drill to put in winter wheat and I really liked how they closed the seed trench and broke up the sidewall. Well worth the money. [2014 update] I seeded into sod with my JD 750 drill last week and the Thompson closing wheels worked great! The factory closing wheels would have never been able to close the furrow."
Mark Misar
Scotland, SD, Exapta customer since 2013 (T-whls on JD 750 drill)
"No problems at all with wrapping of cover crops."
Steve Groff
Holtwood, PA, Exapta customer since '05 (T-wheels on 1590 drill)
Fall 2010, very dry for wheat seeding: "The Thompson wheels were a significant benefit, because they were actually covering the seed in 1 to 2 inches of soil. We feel they helped the wheat come up from the little 0.20″ showers that hit half our ground so far. Without the Thompson wheels, I'm sure we wouldn't have seen the stand we currently have."
Nathan Pearce, Homestead Farms
Wallace, KS, Exapta customer since 2010 (Thompson wheels on JD 1890 air drill)
"I'm quite impressed—the Thompson wheels provide superior closing to the original John Deere wheels, especially in wet sticky soils or in high-residue conditions….Sometimes it's the difference between seeding and not seeding—the Thompson wheels and SDX firming wheels complement each other and let me start seeding more quickly after a rain. The Thompson wheels really shine with small-seeded crops such as alfalfa, canola, and mustard, which don't have as much push to get through the compacted ribbon created by the JD closing wheels…. I've seeded 20,000 to 25,000 acres with the Thompson wheels and had good wear—they should last another couple years." [He replaced the Thompson wheels at 35,000 acres.]
Brian Hildebrand
Skiff, Alberta, Exapta customer since '04 (Thompson wheels on JD 1890 air drill)
"We run Thompson wheels on one of our drills and have cast iron wheels on the other. We saw a huge difference, especially in the wrong/extreme conditions. We are 100% no-till and when it's wet the cast wheels leave the trench wide open, but the Thompsons do a great job of covering the slot. This next year [2016], we will be outfitting our other drill with Thompsons."
Doug Lingo
Wiggins, CO, Exapta customer since 2015 (Thompson wheels on JD 1890 air drills)
"Thompson wheels should come standard on the drill. We plant thru grass and really heavy straw and the Thompson wheels never wrap or collect residue. I was worried planting thru the residue and stubble, but these wheels worked tremendously well. They've made my drill!"
Ron Gossett
Sardinia, OH , Exapta customer since '08 (Thompson wheels on John Deere 1590 drill
"We had much better stands on the back rows where the new Thompson wheels were installed. We were able to drill beans in soil where the front rank (without T-wheels) were not getting closed. They were a big improvement in our double crop soybeans. I've been happy with all the products from Exapta."
Ben Stork
Waterloo, IL • Exapta customer since 2019 (1500 acres so far on NEW replaceable Thompson wheels on 30' JD 1990 CCS)
Closing Wheels for Drills in the News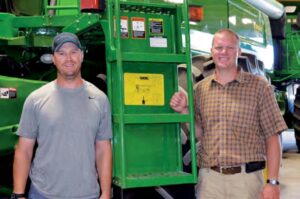 Featured in No-Till Farmer: For Ambitious No-Tillers: There's No Place Like Home
Almost to the Colorado border, these far western KS no-tillers credit some of their success to good seeding equipment set up — including Exapta's Thompson wheels on their drill as well as their planter (although we do worry about the T-whls on their planter not being ran with a seed firmer).
Installation Instructions
"I want to say 'thanks' for your Thompson wheel—I changed the whole drill over to these this spring [2014] and 'wow'…I can testify to the Thompson, as I ran [a comparison of] the Deere stock closing wheel, [OEM with spokes cut into it], [a competitor spoked steel whl built from thicker & heavier plate than the T-whl], and Thompsons in no-till and also on some worked [tilled], and the Thompsons shined in both conditions. Guys think that the [thicker competitor] wheel is best because it is heavier and packs more, but that's not [the closing wheel's] purpose—I had the worst emergence out of that wheel actually."
"The Thompson wheels are definitely better than the John Deere closing wheels, especially in damp situations. [Gabe plants in some jungles of cover-crop cocktails, and yet:] Very few problems with the Thompsons in viney cover crops, such as hairy vetch. Some wrapping of dried wild buckwheat but not enough to slow me down. It is so minimal it is not worth mentioning."
"The smooth JD cast wheels won't close the furrow when it gets hard and dry. But the Thompson wheels will penetrate and close the furrow. Crumbling versus smashing the furrow shut makes a big difference, especially if soils are wet."
"I'm no-tilling with a JD 1890 in clay-loam soil. I tend to drive a little fast, 6 – 9 mph. The OEM closing wheels were in the air probably 50% of the time. The [competitor spoked wheels] are also heavy and tend also to bounce. I've got along best with the Thompsons. I ran all three side-by-side last year [2012], and now have all Thompson wheels on my drill."
Chris Horton brings 25 years of management with him. He grew up on his grandparents farm in Reno County Kansas where they mainly grew wheat and cattle feed. He worked on feed lots as a pen rider and cow-calf operations before moving to Southern California where Chris started a new career in the transportation and transport logistics, eventually managing the western region for a large commercial vehicle leasing company. Chris moved home to Kansas, to manage a local Farmers Coop and then eventually the service dept for a tractor dealership. The opportunity to join the Exapta team came up, and he knew he wanted to be a part of this team.
Finance Manager
Michael Beasley joined Exapta after serving in various financial roles over the course of his career, from Controller to Chief Operating Officer. He also spent many years in sales walking fields with growers and learning about their greatest challenges. Michael believes in the future of agriculture and the importance of no-till. He is a strong advocate for regenerative farming and soil health.
Current Product Engineer
Jonathan Zeller joined Exapta excited to return to working with no-till planting equipment. He supported research of no-till planting and other ag related projects for 7 years with Kansas State University's Agricultural Engineering Department after getting his engineering degree. He later worked 3 years for Landoll Company, LLC. where he gained experience in a design engineering role. Jonathan grew up on a small family farm in NE Kansas working with row crops, hay and cattle. Jonathan enjoys solving engineering problems and improving or creating products to be robust and easy to install and service.