Planter Parts and Equipment
Everything You Need to Know About No-till Farming
At Exapta Solutions, we don't just sell no-till equipment and no-till drill parts, we educate farmers across the US, Canada, and worldwide on how to become more successful at farming. Modern, no-till cropping is still a fairly new method to many farmers, which is why we strive not to sell you some device, but to provide solid information to help you get the most from your seeding equipment and your no-till efforts.
Everything You Need to Know About No-till Farming
No sales pitches. This DVD is aimed at nurturing your understanding of the seed-installation process, and we have tried in the utmost to be truthful and objective, and to deliver highly useful insights and tips. We sincerely want no-tillers to succeed, whether or not they buy any hardware from Exapta.
Detailed narrative and visuals to guide you through everything from off-season overhauls of your planter & drill, to exact step-by-step adjustments in the field. Actual footage of Matt Hagny excavating seeds in furrows (both planters and drills); discussion of what good seed placement looks like, and why. Troubleshooting. Maintenance tips. Aftermarket upgrades. Seedling growth. Fertilizer placement. Agronomy. How uniform timing of emergence overshadows uniform spacing for yield influence. For highly effective no-till seeding, this video has it covered.
120 minutes of narrated video, diagrams, and data covering nearly every aspect of no-till seeding; includes 10-step printed guide for in-field reference. Free shipping within the US and Canada
While we cover no-till seeding in the broadest possible terms, specific recommendations given will apply primarily to the JD/Kinze/White planter design, and to the Deere 50/60/90-series single-disc gauge-wheel drills. Case SDX & Case Precision 500 / NH 2080 gauge-wheel drills are also discussed. (Once you see the explanation of the discrete actions required for proper no-till seed placement, you'll understand why we focus on these particular models as being the top choices for no-till seeding in North America. Even if you do not yet own these seeder models, you will benefit from understanding no-till seeding better as explained in this comprehensive DVD.)
"We always get a lot out of your Seeding Schools. We feel comfortable no-tilling now."
"Well worthwhile. Very informational. One of the better things I've done—I could actually see what I was supposed to be doing, rather than just hearing someone talk about it. The planter demonstration was impressive as to the differences in what we're doing with the operation of each component. Time well-spent."
"The Seeding School was really worthwhile. The guys need to be there—they should be going every year."
"The Seeding School is very enlightening"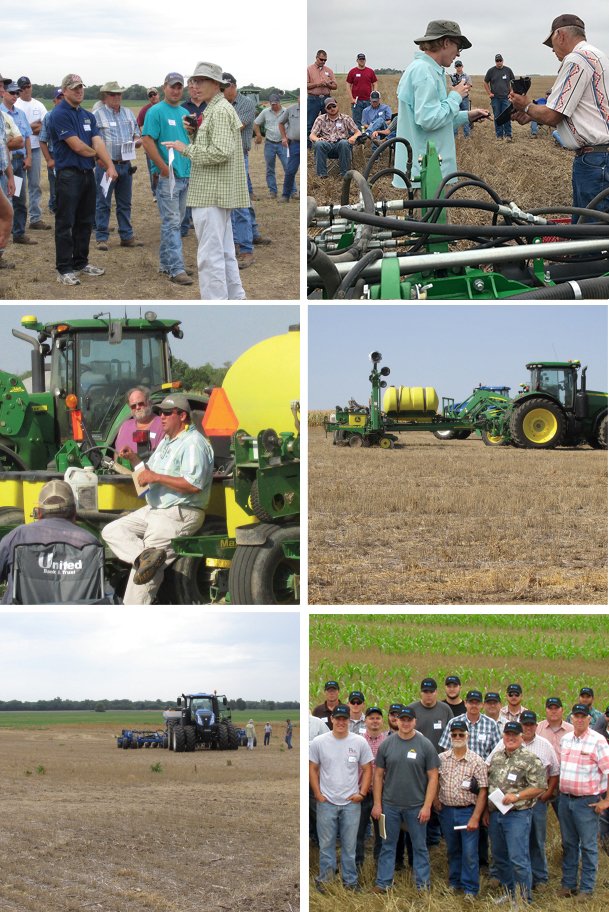 For those who missed out on the school, you can purchase the full 3-hour video while supplies last.
Some highlights include:
Learn very simple, easy adjustments that often provide enormous improvement.
An array of adjustments & attachments on planters & drills shown in action.
Inspection of corn stands planted a couple weeks prior with the same configurations.
Clear explanation of the interactions amongst the components of planters & drills.
The Seeding School is purely educational, and not an infomercial for Exapta products.
We'd like to thank our past Seeding School hosts, including Kent Stones, Jason Stansbury, Craig & Gene Stehly, Joe Swanson, David Young, and Doug & Tracey Palen.
"Thank you for creating this wonderful DVD. It's the best $65 I've ever spent in farming. I've never seen anything like it, certainly not in Australia, and not from the U.S. either."
"Yesterday I watched your Exapta seeding video for about the 4th time. I review it every year. It is by far the very best no-till seeding video I have ever seen."
"A great educational DVD: Thorough, well-tested, innovative, and farmer-friendly."
"I have your Exapta DVD and it helped me a lot."
Chris Horton brings 25 years of management with him. He grew up on his grandparents farm in Reno County Kansas where they mainly grew wheat and cattle feed. He worked on feed lots as a pen rider and cow-calf operations before moving to Southern California where Chris started a new career in the transportation and transport logistics, eventually managing the western region for a large commercial vehicle leasing company. Chris moved home to Kansas, to manage a local Farmers Coop and then eventually the service dept for a tractor dealership. The opportunity to join the Exapta team came up, and he knew he wanted to be a part of this team.
Finance Manager
Michael Beasley joined Exapta after serving in various financial roles over the course of his career, from Controller to Chief Operating Officer. He also spent many years in sales walking fields with growers and learning about their greatest challenges. Michael believes in the future of agriculture and the importance of no-till. He is a strong advocate for regenerative farming and soil health.
Current Product Engineer
Jonathan Zeller joined Exapta excited to return to working with no-till planting equipment. He supported research of no-till planting and other ag related projects for 7 years with Kansas State University's Agricultural Engineering Department after getting his engineering degree. He later worked 3 years for Landoll Company, LLC. where he gained experience in a design engineering role. Jonathan grew up on a small family farm in NE Kansas working with row crops, hay and cattle. Jonathan enjoys solving engineering problems and improving or creating products to be robust and easy to install and service.