No-till Drill Parts & Equipment
For seed boot on JD 50, 60 & 90-series NT drills. Must be trimmed or modified to fit 60 series boot. Manufactured to Exapta's high-quality specs for longer service life (less breakage, maintains strength) and 20% more force applied to the boot. Special ultra-durable paint process prevents rust. Plus a splotch of blue for visibility. Replaces Deere N284055 & N280485.

$

6.00
Our leaf spring is for the seed boot on JD 50, 60 & 90-series no-till drills. Must be trimmed or modified to fit 60 series boot. Manufactured to Exapta's high-quality specs for longer service life (less breakage, maintains strength). Special ultra-durable paint process prevents rust. Plus a splotch of blue for visibility. Replaces Deere N284055 & N280485.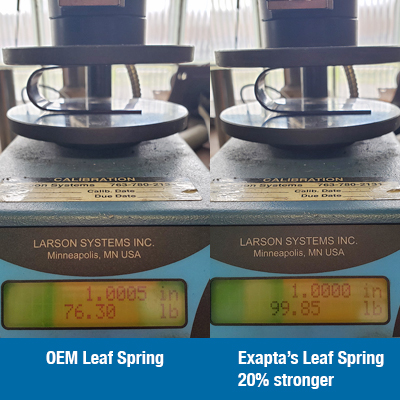 20% Stronger than OEM
Verified through independent testing.
"[With Exapta upgrades] my drill works better than when it was new."
"Exapta seed boot springs are absolutely brilliant compared to the JD springs, and also it was cheaper to get them from Exapta than to purchase JD ones from our local dealer."
Current Product Engineer
Jonathan Zeller joined Exapta excited to return to working with no-till planting equipment. He supported research of no-till planting and other ag related projects for 7 years with Kansas State University's Agricultural Engineering Department after getting his engineering degree. He later worked 3 years for Landoll Company, LLC. where he gained experience in a design engineering role. Jonathan grew up on a small family farm in NE Kansas working with row crops, hay and cattle. Jonathan enjoys solving engineering problems and improving or creating products to be robust and easy to install and service.