No-till Drill Parts & Equipment
Unique forward bend to put more seeds in the bottom of the furrow. Incredible wear life; doesn't break off like OEM and aftermarket flaps. Fits Standard and Extended Wear boots. For JD 50 & 90-series drill boots, 7/8 x 5" (includes 1/4"x1"bolt). DOES NOT FIT PRO-SERIES US Patent 9,668,402

$

7.30
All About Ninja Seed Flaps
Exapta's Ninja flexible seed bounce flap keeps more seeds in the furrow, and is less prone to breakage in the field (less brittle) as compared to OEM or other aftermarket flaps.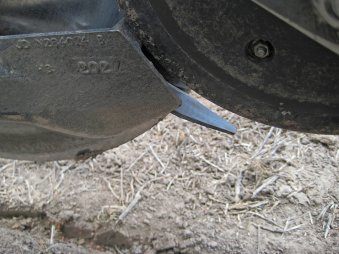 Keep Seeds in the Furrow
Exapta's unique forward bend puts more seeds in the bottom of the furrow.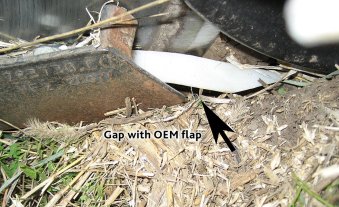 Close the Gap
Straight, stiff plastic seed flabs ('tabs') such as OEM and competitors leave a gap through which seeds can escape.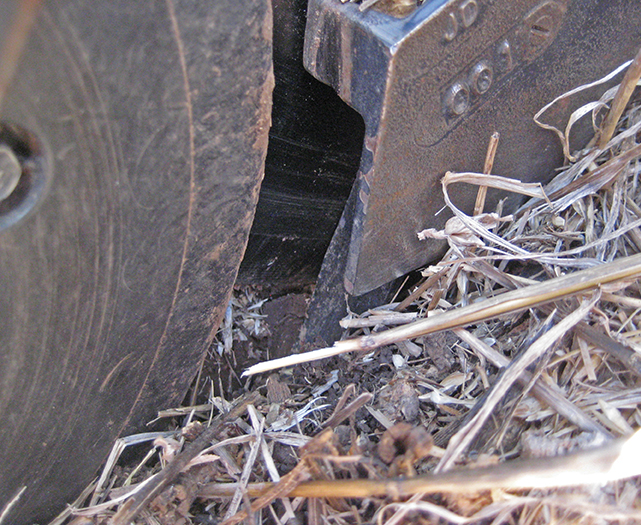 Ninja: Down, Forward, No Gap
Our Ninja flap has a 20-degree forward bend to help close the gap, thus keeping more seeds in the furrow. The flexibility of the Ninja prevents it from riding up (lifting) on the sidewall like a stiff flap would, which makes the gap bigger on those flaps.
The flap, or tab on the seed boot is what keeps seeds from bouncing out of the furrow, and this is even more critical on air drills, since the air stream is also trying to escape and may carry seeds along with it. However, JD & aftermarket flap suppliers use a straight flap, made from materials that are too brittle—often snapping off in the field. The issue with straight flaps is that it leaves a triangular gap for seeds to escape, and this gap gets larger when the straight flaps bend upward during use, due to riding on the sidewall.
Our Ninja flap has a 20-degree forward bend to help close this gap, thus keeping more seeds in the furrow. The forward bend helps deflect seeds downward into the furrow bottom before dust and chunks of sidewall fall in ahead of the seed. The flexible material and tapered end prevent the Ninja flap from riding on the sidewall. The result is better seed placement. Ninjas also shed mud better than OEM and competitor tabs, and are proven to have superior wear characteristics — our Ninjas will last at least 5 times longer than OEM or competitors! (indeed, we don't know of anyone who has actually worn any out!)
"The Ninja seed tabs have made a huge difference to our seed placement and accuracy—before, we had a lot of seed near and on top of the soil. Also finding we don't need to run the discs as deep to achieve optimum seed depth and placement."
"The Ninjas hardly wore at all. They fit down in the furrow so much better than other flaps on the market. I really appreciate what you guys are doing for the farmer."
"We've now got 10,000 acres on our Ninja flaps, and they look fine yet—very little wear. They'll easily go another season, unlike the [competitor aftermarket] tabs that needed replacing every season [5,000 acres]."
"The Ninja seed flaps are great. I put half Ninjas and half [competitor's] on to start the 2015 season. Probably did about 3,500+ acres this year with 30′ drill. The [competitor's] get pretty worn after a couple hundred acres, but I left them on all year for the PITA factor. Yours [Ninjas] are not near replacement yet."
Current Product Engineer
Jonathan Zeller joined Exapta excited to return to working with no-till planting equipment. He supported research of no-till planting and other ag related projects for 7 years with Kansas State University's Agricultural Engineering Department after getting his engineering degree. He later worked 3 years for Landoll Company, LLC. where he gained experience in a design engineering role. Jonathan grew up on a small family farm in NE Kansas working with row crops, hay and cattle. Jonathan enjoys solving engineering problems and improving or creating products to be robust and easy to install and service.