You asked. We deliver! Forges de Niaux offers a longer life, stay-sharp blade with a hub, bearing and rivets that hold up! 30 – 40% more wear life than competing openers. The Forges de Niaux takes it to the next level with a unique steel and special heat-treat process. Same dimensions as OEM. Uses Peer double-row larger 205 bearings, whereas OEM and other aftermarket are double-row 204 bearings (smaller diameter). They also use 5/16″ rivets instead of 1/4″. We can source FDN opener blades for most models and brands of planters including Pre-XP, Kinze, White and Case. Just call and ask!
The stamped hub is finish-machined—unlike any other—creating an improved fit over all other brands. FDN narrowed the tolerances to 50 thousandths axial runout and 1/16″ radial runout, whereas industry tolerances are 80 thousandths axial runout and 1/8″ radial runout. The bearing is never loose in the hub, nor too tight (which shortens bearing life). The order of the finish machining (rivet holes after the centerline is established), along with the powder coat painted blade, ensures everything is within tolerances and the bearing doesn't fail prematurely from misalignment.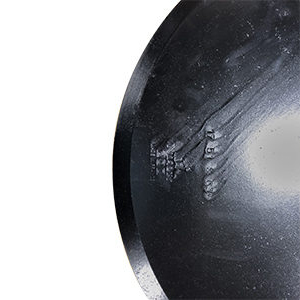 Tough, Proven
The Niaux 205 and 204 blades stay sharp longer. But the additional wear life on the Niaux 200s doesn't impair their toughness, because the extra hardening occurs only on the outermost inch or so (also, they use a different steel to handle the additional hardening—it's not the usual 15B30 steel that all the other blades are made from).
"I tried the JD and the Ingersoll opener blades. Our JD 1895 drill (42ft on 10") runs across 5000 acres on average a year. I could never get entirely through the year with JD or Ingersoll blades, but with the Forges de Niaux blades I can get another 500-1000 acres. I am very happy with these. We have such hard rocks and soil that we run across, so it's really hard to keep disc up-to-par. With the Forges de Niaux openers we can actually make it through the season and then some."
"I planted 4500 acres this year without a single problem. Very pleased with them. This is a great product."
"The FDN blades I put on last fall have worn really good. I've put on 8,000 acres and they look great, yet. Granted last year soils were wetter conditions, but I can't believe the limited wear. At this rate, I wonder if we'll get another 12,000 acres."
"The Forges de Niaux (FDN) blades are by far the best drill blades on the market. I ran FDN, Ingersoll and Edmondson blades side-by-side and the FDN wear better and longer than the others. I can get at least 1 year to 1.5 years out of the Ingersoll and Edmonson blades, but not a full two years. With the FDN, I can get a full 2 years at least. It takes too much time to tear down mid-season to replace blades, so the FDN blades lasting 2 years is great. I now have the entire drill with the FDN blade."