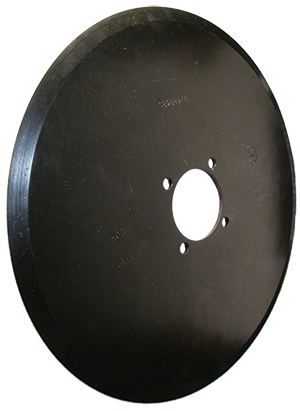 Ingersoll Opener Blades
For JD 50/60/90 drills; same dimensions as OEM (18.0″ x 5mm)
More affordable than Deere's current Bellota blades (and equal or better quality)
Much sharper & maintain diameter better than some other aftermarket blades (Osmundson, etc)
Reduce hairpinning & improve soil penetration
Ingersoll (Canada) opener blade, John Deere 50/60/90 drills.  Same dimensions as OEM new.
Perhaps because of the noise we made about the dullness of JD's opener blades on their 50/60/90 drills, Deere switched suppliers in late 2015, from the low-quality Osmundson to high-quality Bellota.  The Ingersoll blades we sell might still have a slight advantage over the Bellotas but it's nothing like the huge advantage we had over the Osmundsons (some aftermarket places still sell these).  Ingersolls still have a big wear-life advantage over some other brands as well, such as Argis.
Blade sharpness is critical, and we were advocates of frequent blade replacement long before we ever started selling any opener blades.  Dull blades hinder the cutting of straw and stalks—resulting in hairpinning, i.e., tucking the residue into the furrow with the seed sandwiched in the middle—as well as poor cutting of the soil itself. Attempting to overcome this requires more down-pressure and frame weight, sometimes a great deal more.
A few companies are selling aftermarket blades that are larger diameter than OEM, which is 18″.  This is undesirable for a couple reasons: First, larger blades result in more hairpinning (unless you're planning to cut a furrow 5″ deep).  For seeding depths of 1.5 – 2.5″, you really want blades that are only 15 – 16″ diameter; 18″ is a bit too large already.  Secondly, if you typically seed about 1.75 – 2″ deep (and this is where these drills work best), going to a larger blade will create more of a gap between the lower edge of the seed boot and the soil surface, causing more seeds to escape (and lowering the boot to the bottom hole may not put the boot at the proper spot either, depending on the exact blade diameter being used).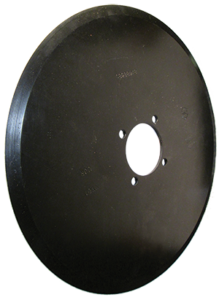 Longevity
Side-by-side testing typically shows about 25% longer wear life vs other brands in Canada & northern U.S. soils. Similar wear life in central & southern USA. (Deere switched from Osmundson to Bellota drill blades in late 2015, which was a huge improvement in initial sharpness, as well as improved longevity in southern USA)
"I was pleased with the blades. They didn't get the blunt edge like competitor blades tend to, which of course is great for performance. I will continue to use them."
Jordan Reimnitz
"Your Ingersoll blades were 1/8″ larger diameter than JD blades after one season on the same drill."
Tim Willms
"We were very pleased with the Ingersoll blades! They seem to wear much better & starting out with sharp blades is a great help—No hair pinning. The last blades we bought from John Deere were terrible. They were dull & didn't wear well."
Joe Swanson
"We had JD, Ingersoll, and Argis blades on an 1850. The blade that wore the most—was the smallest in diameter—was the JD blade, followed by Argis. The Ingersoll blade was the largest in diameter."
Fred Dunlop