Exapta is pleased to now offer a truly superior blade for your JD no-till drills, the Forges de Niaux 200. Extensive field testing has proven these to last an average of 20% longer than the next-best, the Ingersoll, and to stay sharp longer—due to a unique steel and heat-treatment process.
For JD 50/60/90 drills; same dimensions as OEM (18.0″ x 5mm)
Even stronger
20 – 40% more wear-life
Much sharper & maintain diameter
Reduce hairpinning & improve soil penetration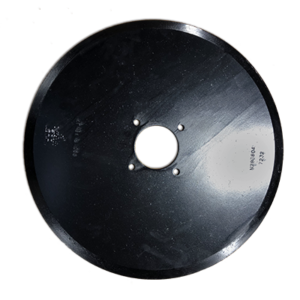 In terms of wear life, the typical hierarchy is Forges de Niaux 200 > Ingersoll-Canada ≥ Bellota-Illinois (JD since 2016) > Osmundson (JD – 2015 & prior). In terms of consistency of initial sharpness, it's Ingersoll-Canada ≥ Niaux 200 ≥ Bellota-Illinois > Osmundson. Osmundson's blades for these drills usually have a very dull spot somewhere around the circumference, and Bellota sometimes also has issues with dullness when new. (Note that some of these companies have more than one plant—Bellota has a large plant in Spain, for instance, and Ingersoll also makes blades in South America. Further note that the investors that own Ingersoll also bought Bellota a year or two ago. And Nichols are rebranded Ingersolls.)
Some people get hung up on Rockwell of the blades—it sure sounds very technical/authoritative, but the hardness of a blade is only one indicator of wear-life, and certainly isn't definitive or conclusive; actually running them in the soil side-by-side, in many replications, many locations, is what counts (even for a single brand, individual blades can vary slightly from one to another as to hardness and wear-resistance).
Why haven't you heard of Forges de Niaux? (btw, Niaux is pronounced "nee-ooh," which sounds a bit like "new" if you say it fast, but it doesn't translate as "newish" but instead is the name of a place in France.) Forges de Niaux have actually been around for a very long time. Being headquartered in France, they make hundreds of thousands of blades a year for European OEMs. They actually worked very closely with Ingersoll-Canada in the past (although the Ingersoll blades use older Niaux technology).
How could the French have better blades than what are made in USA and Canada? Simple, really. It's the same reason that Claas combines and Fendt tractors are so much more sophisticated than the US's competitor machines (I dare not say equivalents). European farms are more heavily subsidized, and spend more on equipment—they've even got better ag tires. European farmers are more demanding, and willing/able to pay for a higher-quality product. But no-tillers need opener blades to stay sharp a lot more than tillage farmers—not only to prevent hairpinning, but just to penetrate firm/structured soil without inordinate amounts of downforce. Not to mention that most people with JD 50/60/90 drills are quite willing to shell out a little extra if they could go 20 – 40% longer before replacing blades—it's really time-consuming if you have 48, 72, or 96 openers that need new blades.
No-till farmers are gradually becoming more demanding, and Exapta is proud to have pushed that along for opener blade quality on these JD drills. We suspect the noise we made helped impel JD to upgrade from Osmundson to Bellota, and caused at least one large aftermarket competitor to switch from Osmundson to Ingersoll. But there are still plenty of places that sell inferior blades! Beware. (Note that Osmundson usually doesn't have their name engraved on their blades, just the square-inside-circle logo.) As much trouble as these drills have with hairpinning and poor penetration, you probably don't want to skimp on blade quality.
Need more help with getting these drills to cut better and hold depth than what sharper blades can address? Have a look at our UniForce hydraulic downpressure system and Aricks row cleaners, to eliminate hairpinning and erratic depth on JD 50/60/90 drills. Our customers love these!