'Toe-out' means the front edge of the closing wheel tracks a bit wider than the rear: Our wedge creates up to a 6-degree toe-out (per wheel) on planter closing brackets, which have zero initially (if planter opener is running level; planters running 'nose-down' actually have toe-in, resulting in no closing action at all). Toe-out causes closing wheels (all types) to more actively engage and pull soil back into the furrow—the reverse of the opener blades prying soil apart to create the furrow. (Note: John Deere 50/60/90-series drills have toe-out built into the closing arms.) The need for toe-out is greater in high-clay, low-OM soils, or in soddy conditions. Exapta's toe-out wedges simply slip onto the bolt attaching the closing wheel on most planter models.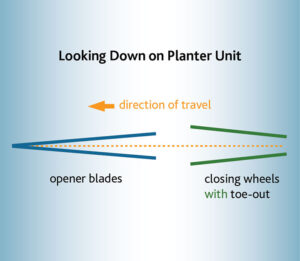 Open, Then Close
View from above: Toe-out on closing wheels is simply the reverse of the opener blades prying the soil apart to create the furrow. No wonder toe-out is such a big help on so many closing wheel types!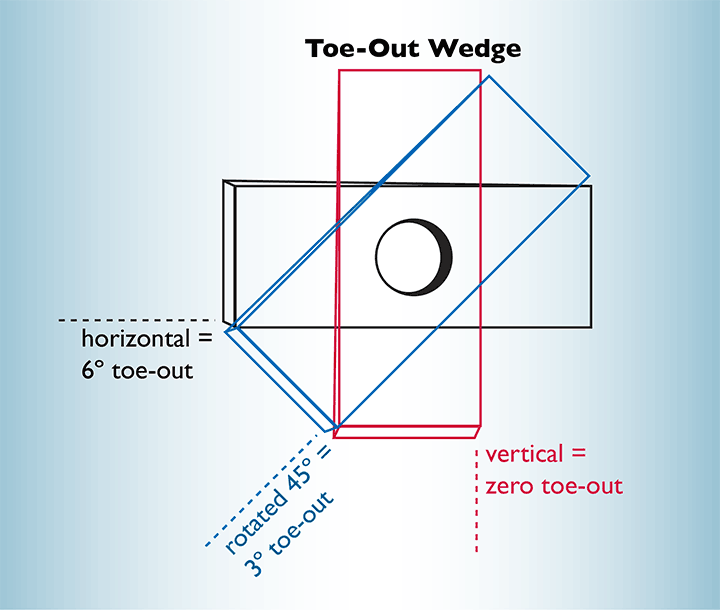 Adjustable Toe-out
Toe-out wedges are adjustable, depending on which angle you set them at while tightening the bolt holding the closing wheel. Once set for your soils & seedbed conditions, you probably won't need to change them, but you have the option if the need arises. For no-till in tough soils such as the southern USA, the full 6 degrees is recommended. For more mellow northern soils, 3 degrees is typical.
Toe-out for JD 7200 / 7300 planters:
Since the Deere 7200 / 7300 planters originally had closing brackets with welded-in stud shafts onto which the closing wheel's bearing slid, there are no easy options to achieve toe-out. The best choice is to update the entire 7200 tailpiece to one that accommodates wheels held by bolts (i.e., what all 1700-series have), such as Exapta's PLT120740 (handle & bushings included, spring sold separately). Another option is JD's kit AA44266.
Toe-out for JD 7000 / 7100 & Kinze 2000-series planters:
Closing wheels on these planters were held with 'waterpump-style' bearings having a protruding stem and held into the OEM closing bracket with a roll-pin. To use Thompson wheels at all on these planters, the closing bracket needs to be updated to a bolt-type closing-wheel configuration, such as Exapta's PLT120730, which also gets the closing bracket updated to lever adjustment of the closing spring pressure.
---
"The Thompson wheels with the toe-out wedges worked excellent in our wet conditions last year [2013]. Even in green cover crops that were over a foot tall. No wrapping or mud build-up. These were tough conditions. We planted when we could."

Terry Schwab
Belle Plaine IA , Exapta customer since 2013 (Thompsons, toe-out wedges, Mojos on 12-row JD 1760 planter)
"I'm happy with the Thompson closing wheels and toe-out wedges—the best results I have seen versus other brands.  I like the short teeth and the adjustable spring tension because with some of the soil I don't even need any pressure, just the weight of the wheels."

Olie Leimer
Albert City, IA, Exapta customer since '09 (T-whls on 12-row JD 7100 planter)
"We planted hundreds of acres of corn into killed CRP sod in the spring of 2010. The Thompson wheels and toe-out wedges did an excellent job of getting the furrow closed in those really tough conditions."

Jack Schmitt
Scott City, KS, Exapta Customer since
"We farm clay knobs, sandy loams, and high-organic muck soils, often all on the same day. We tried a number of different closing wheels and found the Thompson wheel performed well across all those conditions. I run them toed-out about 3 degrees."

Chuck ZumbrunChurubusco, IN, Exapta customer since 2010 (Mojos, T-wheels & toe-out wedges on JD 1700-series planter)
---
Download Installation Instructions