Are you always battling between too much air from your air drill's fan, or too little? Too much air because you don't want to plug the drill's primaries, or too little air because you're unhappy with the poor seed placement from too much air? SeedVU gives you the peace of mind of running your air drill's fan where it should be, and not worrying about seed blowing out of the furrow—and all while monitoring for main line blockages. The SeedVU takes unwanted, excess primary-line air pressure and separates it from the seed and fertilizer stream, right where you need it to: the air drill's distribution head. This allows seed and fertilizer to travel to your seeder's openers by gravity, or assisted by an adjustable volume of air. It's up to you!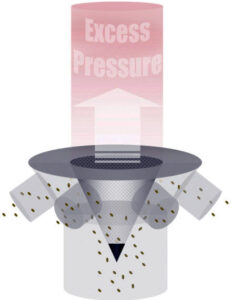 Cone-shaped Screens
SeedVU uses its cone-shaped screens to separate seed and fertilizer from the air stream. Now you can run your air cart fan where it should be, and not have excess air velocity at the seed boot causing more seeds to blow out or bounce out of the furrow from too much push by the air stream.
SeedVUs fit into the distribution heads, and can be installed (or uninstalled) in a matter of a couple minutes for the entire drill. Quite unlike air diffusers that go into secondary lines so that there's one for each opener: An all-day job to install, and a nightmare if they ever gunk up from seed treatments or fertilizer dust. The perforated mesh-type air diffusers in secondaries also have issues with very teeny seeds such as teff, an eastern Mediterranean grain crop related to sand lovegrass. When seeding these crops, diffusers must often be removed, or taped over (duct tape fixes anything, right? 🙂 ).
SeedVU is the only device on the market that will stop excess primary-line backpressure, monitor for primary-line blockages, as well as reducing seed bounce. And, let's face it, all air diffusers eventually have trouble with fertilizer or seed treatments gunking them up. For diffusers that install into secondary lines, this may cause a lot of down-time unplugging them, and in worst-case scenarios might be an all-day job to clean them up. But with SeedVU, it's a matter of 2 minutes to remove all of them, put the old caps back on, and keep on seeding during crucial time windows. The same goes for ultra-small seeds (e.g., teff) that are unworkable in screen-type diffusers in the secondaries—rather than deal with 36 – 96 of them, just changing out a few SeedVUs has you on your way again!
Note: If you are replumbing your air drill (replacing primary & secondary hoses), try to situate the distribution heads as high as possible, and eliminate droops or horizontalness in all secondaries — this will let you discharge more air pressure from the SeedVUs, or any other diffuser for that matter.
Smallaire's Heat Exchanger
Prevent hydraulic oil from overheating caused by your air drill. Even if it's not overheating to the extent that it's shutting down your tractor, high temperatures break down hydraulic oil faster, and shorten the life of pumps and seals. You really want it to stay below 180 F, and preferably cooler yet.
There are plenty of farmer-built hydraulic oil coolers out there (in Australia, everyone runs them). But you can go one step further: instead of venting that heat into the atmosphere, you can use it to warm and dry the air going through the air delivery system. This has the advantage of reducing moisture in the lines, and helping to eliminate gunk buildup from fertilizer dust and seed treatments.
For a robust "heat exchanger" that's designed specifically for this, check out our Smallaire unit. The universal, remote-mount version fits nearly any air cart. This uses flexible ducting to mount the unit higher up than the fan intake, to draw cleaner air (cuts down dust and chaff clogging the heat exchanger radiator). We also offer a snorkel, which when used with another piece of flexible ducting, allows the intake to be up near the top of the cart tanks.
We don't keep many, and it takes about four weeks to get them in from Australia, so plan accordingly. Don't let yourself be sidelined in the heat!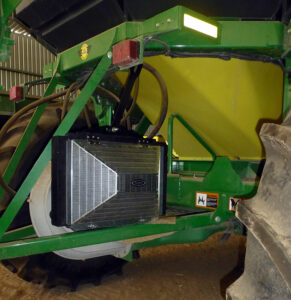 Exapta's Smallaire Heat Exchanger on a JD 1910 TBH cart (ignore the hitch on the rear of the cart). An oil cooler that also warms & dries the air going thru the hoses to prevent buildup of fertilizer dust & seed treatments. Engineered by air-movement specialists to avoid restricting the air intake, and minimize stress on the cast housing of the fan.  Note: We only import the remote-mount Exchangers which attach to the cart frame rather than the fan housing.
"We have been using SeedVUs for 3 years now on our 30-ft Salford drill. We bought the units for 2 reasons. One, we wanted to bleed some air from the system somewhere. History has taught us that there is a tendency of running a little more air than you probably need just to make sure you don't have plugging issues. Second, it was a solution to detecting blocked main lines, as the discharge baffle will drop down if the main lines are plugged. Since using them we have also found that some in-line air brakes can have issues plugging with larger pulse [legume] seeds. It would seem that we spend so much money on precision seed placement but ignore the consequences of too much air at the seed boot. SeedVU system is simple and does the job."
Craig Shaw
"We bought a set of Exapta's [Smallaire manifolds] and have not plugged a hose a single time since or had a hose fall off either, never expected them to work so well, good product for sure. . . . I was skeptical at first, I liked the design of the tube but didn't think the head was going to be nothing special but they ended all of our plugging problems and we backed the fan speed off another 200 RPMs. We got the stainless risers from ya, and as far as I am concerned they are a undervalued product. Great product and I will buy again [for his other air drill]. Thanks!"
Jamie Kouba
"I love the SeedVUs.  If you've ever plugged a primary, it takes 2 hours to clean it out.  That's a lot of downtime, and costs us money.  With the SeedVUs, I can crank the fan speed up and never worry about plugging a primary, and actually do a better job of seed placement by dumping most of the air with the SeedVU."
Tom Cannon, Blackwell, OK
"They made [our 1895 air drill] more like a 750 (box drill, gravity-fed) used to be. More seeds in the bottom of the trench."
Mike Arnoldy