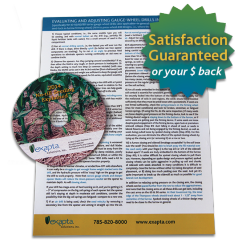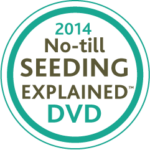 No-till Seeding Explained™ DVD
Completely overhauled since the '09 edition. Educational. No sales pitches.
Step-by-step guidelines for setup and adjustment of your planter and drill
Tips on side-band and pop-up fertilizer
Hundreds of photos, diagrams, and video clips
Includes printed 10-step guide on adjusting planters & drills, for in-field reference.
No sales pitches. This DVD is aimed at nurturing your understanding of the seed-installation process, and we have tried in the utmost to be truthful and objective, and to deliver highly useful insights and tips. We sincerely want no-tillers to succeed, whether or not they buy any hardware from Exapta.
Detailed narrative and visuals to guide you through everything from off-season overhauls of your planter & drill, to exact step-by-step adjustments in the field. Actual footage of Matt Hagny excavating seeds in furrows (both planters and drills); discussion of what good seed placement looks like, and why. Troubleshooting. Maintenance tips. Aftermarket upgrades. Seedling growth. Fertilizer placement. Agronomy. How uniform timing of emergence overshadows uniform spacing for yield influence. For highly effective no-till seeding, this video has it covered.
120 minutes of narrated video, diagrams, and data covering nearly every aspect of no-till seeding; includes 10-step printed guide for in-field reference. Free shipping within the US and Canada
While we cover no-till seeding in the broadest possible terms, specific recommendations given will apply primarily to the JD/Kinze/White planter design, and to the Deere 50/60/90-series single-disc gauge-wheel drills. Case SDX & Case Precision 500 / NH 2080 gauge-wheel drills are also discussed. (Once you see the explanation of the discrete actions required for proper no-till seed placement, you'll understand why we focus on these particular models as being the top choices for no-till seeding in North America. Even if you do not yet own these seeder models, you will benefit from understanding no-till seeding better as explained in this comprehensive DVD.)
"Thank you for creating this wonderful DVD. It's the best $65 I've ever spent in farming. I've never seen anything like it, certainly not in Australia, and not from the U.S. either."
"Yesterday I watched your Exapta seeding video for about the 4th time. I review it every year. It is by far the very best no-till seeding video I have ever seen."
"A great educational DVD: Thorough, well-tested, innovative, and farmer-friendly."
"I have your Exapta DVD and it helped me a lot."