Perhaps because of the light we shed on the matter, JD and some aftermarket companies have improved their game with higher quality offerings. We have too, with the Forges de Niaux 200—which is even stronger and has 20% more wear-life than the next-best—our old standby, the Ingersolls. The general hierarchy for wear-life, sharpness, and quality/consistency is Niaux 200 > Ingersoll ≥ Bellota (JD since 2016) > Osmundson (JD 2015 & prior). The Forges de Niaux truly takes it to the next level. Exapta brings you the best of the best.
Blade sharpness is critical, and we were advocates of frequent blade replacement long before we ever started selling any opener blades. Dull blades hinder the cutting of straw and stalks—resulting in hairpinning, i.e., tucking the residue into the furrow with the seed sandwiched in the middle—as well as poor cutting of the soil itself. Attempting to overcome this requires more down-pressure and frame weight, sometimes a great deal more.
A few companies are selling aftermarket blades that are larger diameter than OEM, which is 18″.  This is undesirable for a couple reasons: First, larger blades result in more hairpinning (unless you're planning to cut a furrow 5″ deep). For seeding depths of 1.5 – 2.5″, you really want blades that are only 15 – 16″ diameter; 18″ is a bit too large already. Secondly, if you typically seed about 1.75 – 2″ deep (and this is where these drills work best), going to a larger blade will create more of a gap between the lower edge of the seed boot and the soil surface, causing more seeds to escape (and lowering the boot to the bottom hole may not put the boot at the proper spot either, depending on the exact blade diameter being used).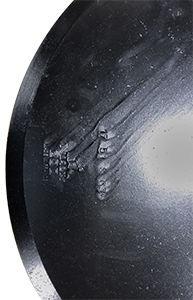 Tough, Proven
20% more wear-life than the next-best—our old standby, Ingersoll-Canada. The Niaux 200s also stay sharp longer. But the additional wear life on the Niaux 200s doesn't impair their toughness, because the extra hardening occurs only on the outermost inch or so (also, they use a different steel to handle the additional hardening—it's not the usual 15B30 steel that all the other blades are made from).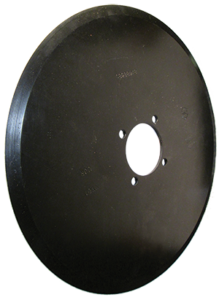 Longevity
While Niaux 200s last 20% longer than Ingersolls, and stay sharp longer, Ingersolls in turn typically have a 20% wear-life advantage over Osmundson. Not to mention the Ingersolls are much, much sharper when new. See our newsletter for more information.
"I tried the JD and the Ingersoll opener blades. Our JD 1895 drill (42ft on 10") runs across 5000 acres on average a year. I could never get entirely through the year with JD or Ingersoll blades, but with the Forges de Niaux blades I can get another 500-1000 acres. I am very happy with these. We have such hard rocks and soil that we run across, so it's really hard to keep disc up-to-par. With the Forges de Niaux openers we can actually make it through the season and then some."
"We rebuilt the drill this year and it's been extremely impressive on the rebuild. We put on the better blades [Forges de Niaux], DuraLok firming wheels and the Aricks Main Pins/Bushings. We got to noticing our seed slot was getting very narrow and we just happened to receive one of your flyers that addressed that. We had a lot of slop in those bushings. We planted about 700 ac of soybeans this year and we are getting the best stands we've ever seen with this drill. I am very impressed with your products! We don't mind running this older equipment if you can make it work. You guys [Exapta] have figured out some stuff that other companies haven't yet. And, your service has been excellent. You have helped us out a lot."
"The FDN blades I put on last fall have worn really good. I've put on 8,000 acres and they look great, yet. Granted last year soils were wetter conditions, but I can't believe the limited wear. At this rate, I wonder if we'll get another 12,000 acres."
"The Forges de Niaux (FDN) blades are by far the best drill blades on the market. I ran FDN, Ingersoll and Edmondson blades side-by-side and the FDN wear better and longer than the others. I can get at least 1 year to 1.5 years out of the Ingersoll and Edmonson blades, but not a full two years. With the FDN, I can get a full 2 years at least. It takes too much time to tear down mid-season to replace blades, so the FDN blades lasting 2 years is great. I now have the entire drill with the FDN blade."