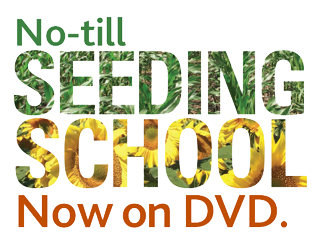 No-till Seeding School DVD
Learn very simple and easy adjustments that often provide enormous improvement.
An array of adjustments & attachments on planters & drills shown in action.
Inspection of corn stands planted a couple weeks prior with the same configurations.
Clear explanation of the interactions amongst the components of planters & drills.
Buy Now
For those who missed out on the school, you can purchase the full 3-hour DVD while supplies last.
The Seeding School is purely educational, and not an infomercial for Exapta products.
We'd like to thank our past Seeding School hosts, including Craig & Gene Stehly, Joe Swanson, David Young, and Doug & Tracey Palen.
"We always get a lot out of your Seeding Schools. We feel comfortable no-tilling now."
Lennie Blain, D.S.&R. Cordel
"Well worthwhile. Very informational. One of the better things I've done—I could actually see what I was supposed to be doing, rather than just hearing someone talk about it. The planter demonstration was impressive as to the differences in what we're doing with the operation of each component. Time well-spent."
Glenn Bauer
"The Seeding School was really worthwhile. The guys need to be there—they should be going every year."
Tom Rabern
"The Seeding School is very enlightening"
Dale Schmitt