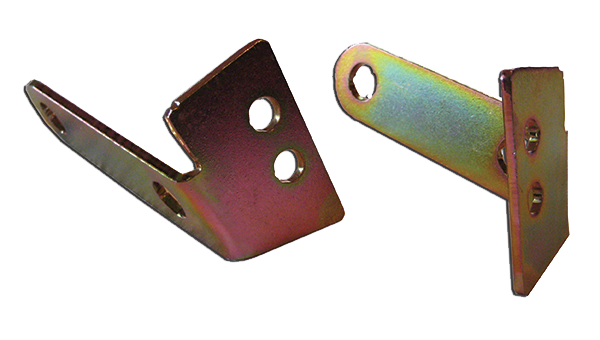 Seed firming for the Case P-500
The Case-IH Precision 500 / New Holland P2080-series gauge-wheel drills (which lack an OEM firming device) can use a special drill Keeton + Mojo by installing Exapta's steel bracket for this.
Exapta's closing bracket for Case-IH's Precision-500
Also fits NH 2080/2085 drills
Creates 7-degree toe-out on closing whl
Toe-out = more aggressive action. Get those furrows closed!
Perfect for use with Thompson wheel
Also compatible with other closing or packer whls
Lighter spring pressure for spoked closing whls
Moves closing whl slightly rearward to allow full-length Keetons with liquid capability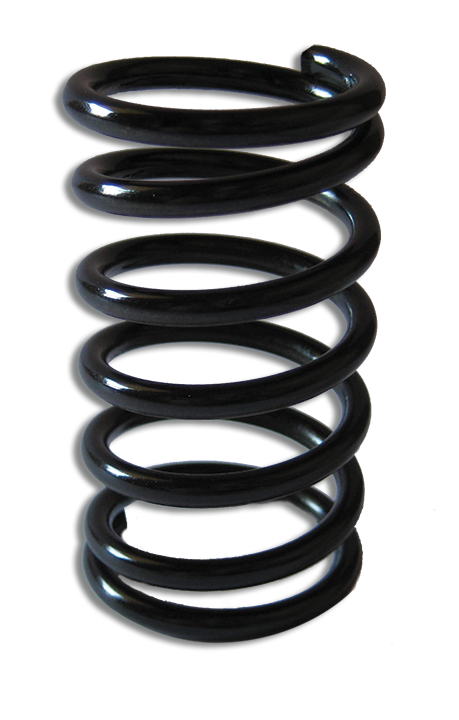 Coil spring, for boot/scraper on Case-IH P-500 / NH 2080
25% more force than OEM to reduce straw tucking between boot & blade. Special ultra-durable paint process prevents rust.
Introduced in 2013, the Case-IH Precision Disc 500 / 500T and New Holland P-2080 / 2085 has many desirable features, including a true gauge wheel running beside the 18″ blade. However, a major downfall for no-till seedbeds is the lack of any in-furrow seed firming device, which would apply a small but consistent pressure directly onto the seed.
Instead, these drills try to squash all the soil from the surface down to the seed with the packer wheel. Sometimes this severely compacts the soil over the seed—not good. Sometimes the furrow cracks back open. And sometimes, if the soil is quite firm, the packer wheel cannot achieve any seed firming at all.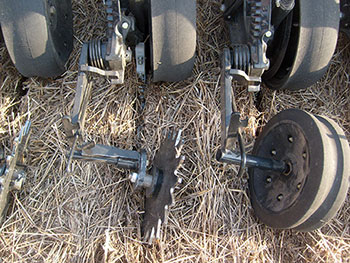 Close the Furrow
OEM packer wheels are pathetic for closing the furrow, and when the springs are set at high pressure, this robs a lot of down-force from the opener blade. Exapta's closing bracket kit with Thompson wheel is vastly superior for getting the furrow closed, especially in damp clay no-till soils, or sod, or other tough seedbeds. Minimal pressure required on Thompson wheels to get the job done, so more down-force is available for the opener itself.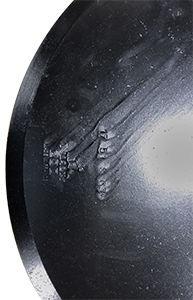 Forges de Niaux blades
Now available: Forges de Niaux's superior blades for Case-IH Precision Disc 500 / NH P-2080 / 2085.  Same dimensions as OEM, but with the greater durability of the Forges de Niaux!  Harder on the periphery, for 20% greater wear life. Stays sharper longer. (Note: We don't stock these in our Salina warehouse; all orders will incur shipping.)
Exapta provides a ready solution to this with our steel bracket to allow a special Keeton & Mojo Wire to be used on these drills. Our Keetons for these drills have been customized to fit, and to allow use of our robust K.608 Mojo. We have 2 Keeton models, depending on which closing system you're running—a full length Keeton for use with our closing system, and a shortened version to use with OEM closing arm (see next paragraph). We also have a specially designed Mojo Wire for the P-500 / NH 2080 to give the Keetons a lot more pressure, while withstanding the extra flexing imposed on the Keetons running on these drills. The Keetons will wear out a lot faster with Mojo Wires, but you probably want all the seeds to come up, no?
Once you overcome these drills' lack of seed firming by adding a Keeton and Mojo, the next order of business is improving the closing action—which is rather pitiful in long-term no-till with their smooth packer wheel. Exapta's closing bracket is the ideal upgrade for these drills, by allowing our Thompson T3 closing wheel to be ran at a 7-degree toe-out, along with lighter spring pressure. Toe-out has been the key to successful furrow closing on other planters and drills (John Deere 50/60/90-series drills have always had 7-degrees of toe-out built into the closing arm, and our toe-out wedge has been hugely popular with planter owners running a variety of closing wheels, even the smooth cast). Exapta's closing system for the P-500 must be used with a Keeton and Mojo Wire, since the Thompson wheel doesn't do any packing. Also, our closing system is the only one to allow use of the full-length Keetons with the liquid application capability. This is because Exapta's closing system moves the closing wheel a couple inches rearward. If using the OEM packer wheel, or any wheel bolting directly into the OEM closing arm, it is necessary to run our shortened version of the Keeton (no liquid capability).
Avoid stand failures! Do firming & closing as separate steps, and do them well.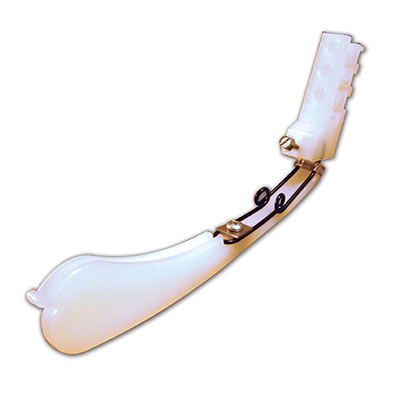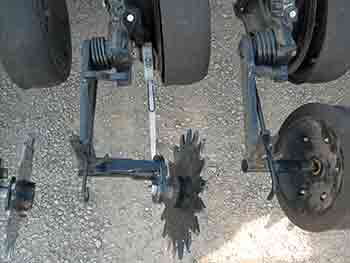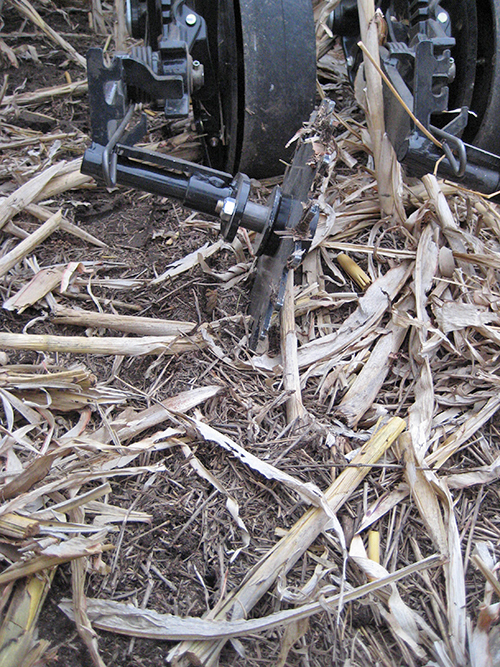 "My stands are perfect—much better than before. I'm very pleased — the Thompson wheels are doing a great job."
"We have a customer, 100% no-till, who was ready to return [his Case-IH] P500 until he came across Exapta. The customer later called to say how pleased he was with the Exapta setup. He was able to plant an additional 400 acres of custom work because others weren't able to get in the field with their implements and close the seed slot [excessively wet]. His drill is working great because of Exapta's products. We are pleased with the experience and look forward to recommending Exapta products in the future."
"It is amazing to me and the other farmers observing, in how well the Thompson wheel closes the furrow while the OEM packer wheel does nothing—and we tried all different spacing and pressures on the OEM to try to get it to work. Your bracket and the Thompson wheel was night-and-day different. I'm totally sold on your setup, including the Keeton and Mojo."
"Overall, your products did a great job. I'm satisfied that I installed Exapta's complete row upgrade [Keetons, Mojos, T-whls]. We probably had the best stands I've seen in a while."