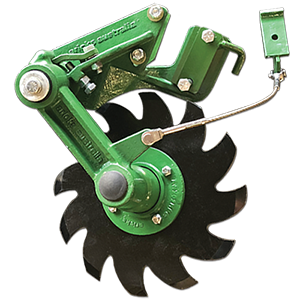 Aricks row cleaners for JD 50/60/90 drills
Dramatically reduced hairpinning
Minimal soil disturbance
More consistent seed placement
A big help for shallow seeding or heavy mulch
Less downtime from waiting for the straw to dry
Proven: 10-yr track record in Australia
Extremely robust design (tough Aussie conditions)
Easily pinned up when not needed
We're pleased to offer another top-notch product from Aricks of Australia, where ruggedness is taken to an extreme (check out our Aricks bushing kits for these drills – wonderful product). These row cleaners have a proven, 10-year track record in Australia, and we're proud to be the exclusive distributor in North America.
While sharper opener blades and waiting for the mulch to dry each morning can take you a long way in preventing hairpinning (as can our UniForce hydraulic downforce system), a row cleaner helps you out if the mulch is simply too thick to cut, or waiting for it to dry isn't practical. Also, in very cold climates, a bit of soil warming from clearing some mulch out of the row can be beneficial.
Aricks row cleaners are also a big advantage when seeding very shallow, such as alfalfa or canola, where it's difficult to make the opener blades cut the residue (18-inch blades cut best when seeding 2.5 – 3″ deep). Not suitable for use in corn stalks — they must be locked up. They do handle hemp, field pea, soybean, faba bean and flax residue without much issue, as well as stripper-harvested cereals.

A jacker bolt allows control of the max down-stroke.  When not needed, the cleaner is easily pinned up.
Exapta has a small quantity in stock, but otherwise it takes 8 – 9 wks to get these from Australia and shipped back out to North American customers.
Note: Box drills require installation of a bar ahead of each rockshaft (call us for price and shipping cost; or prints available to build your own)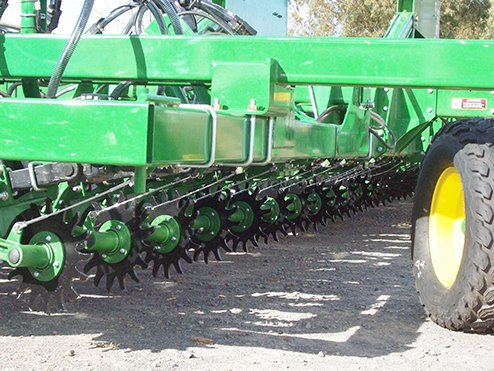 Low Maintenance
Heavy-duty hub: fully sealed, maintenance-free bearing
No greasing of pivot pin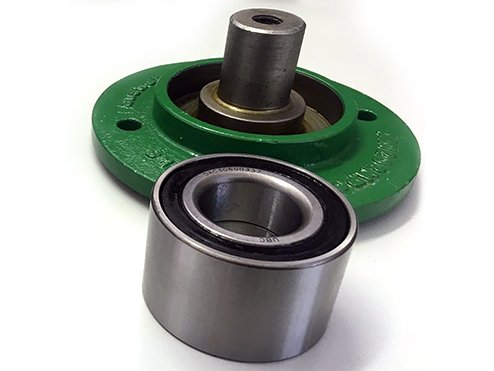 Robust Hubs & Bearings
Aricks row cleaners feature extremely robust hubs and bearings. This is the
same bearing that's in the opener blade hub of the 60/90-series.  These can
take a beating and remain trouble-free for many years and tens of thousands
of acres.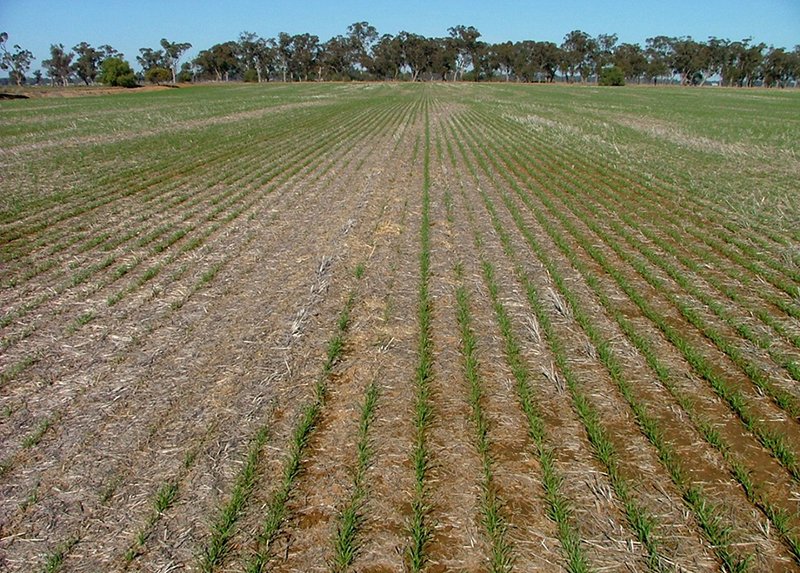 One Aricks wheel was used: see center row for obvious improved germination.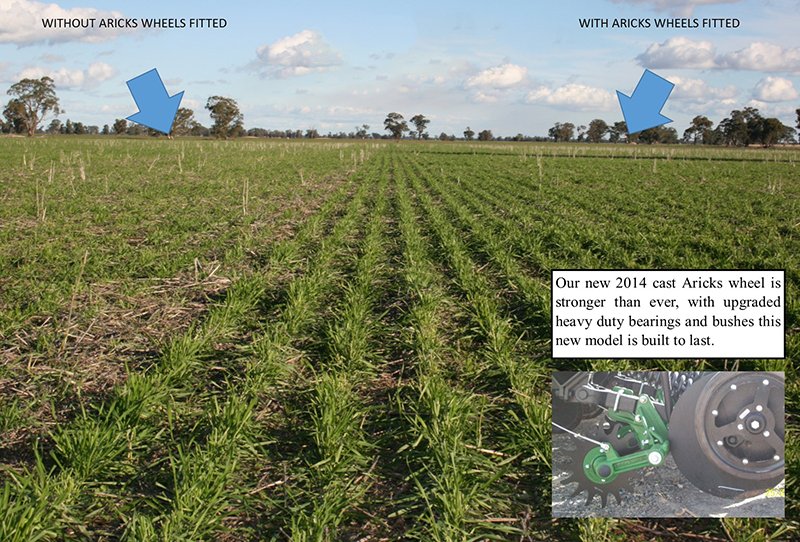 Left side is without Aricks row cleaners. Right side with with Aricks row cleaner wheels.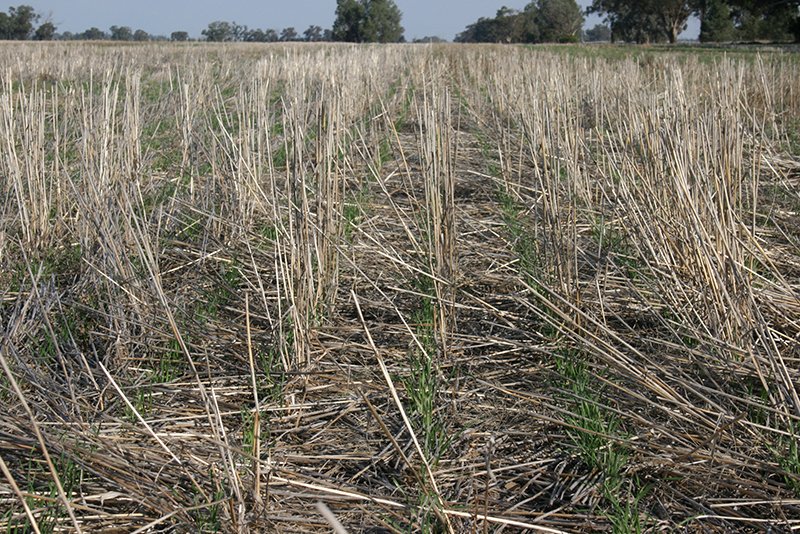 Same field, adjacent passes: With a full set of Aricks wheels in use in RH pic, and without aricks wheels in LH (above). You can see the same landmarks in both photos.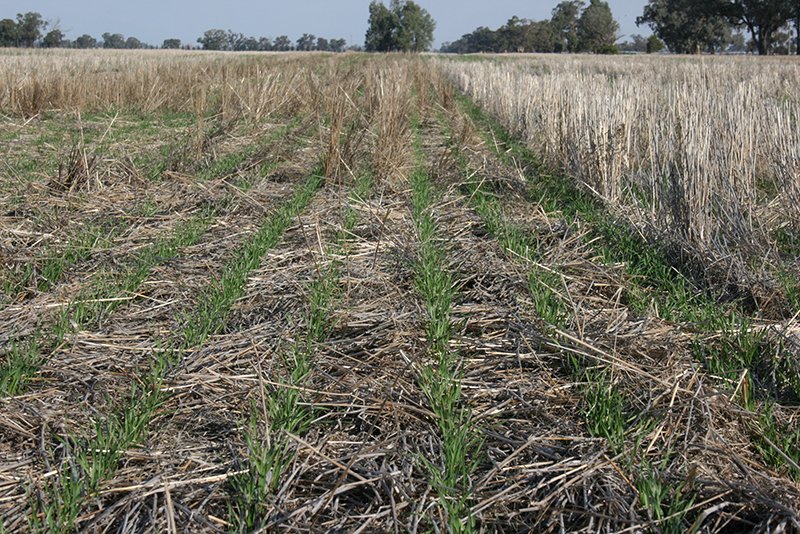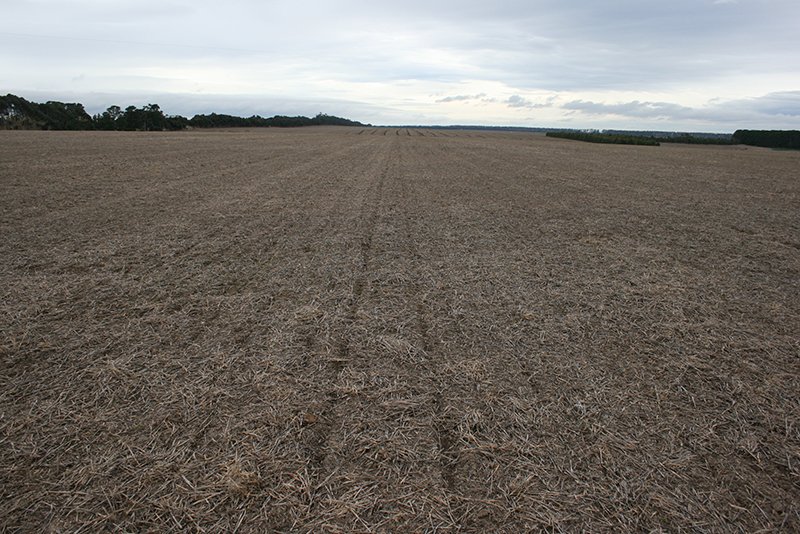 Two rows in center of photo were cleared with the Aricks row cleaner.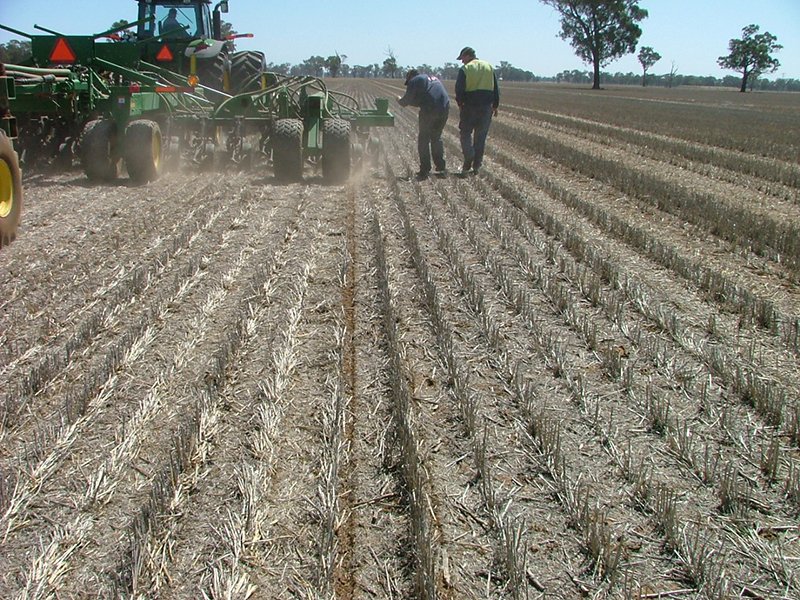 One Aricks residue manager in use (outside row of rear rank).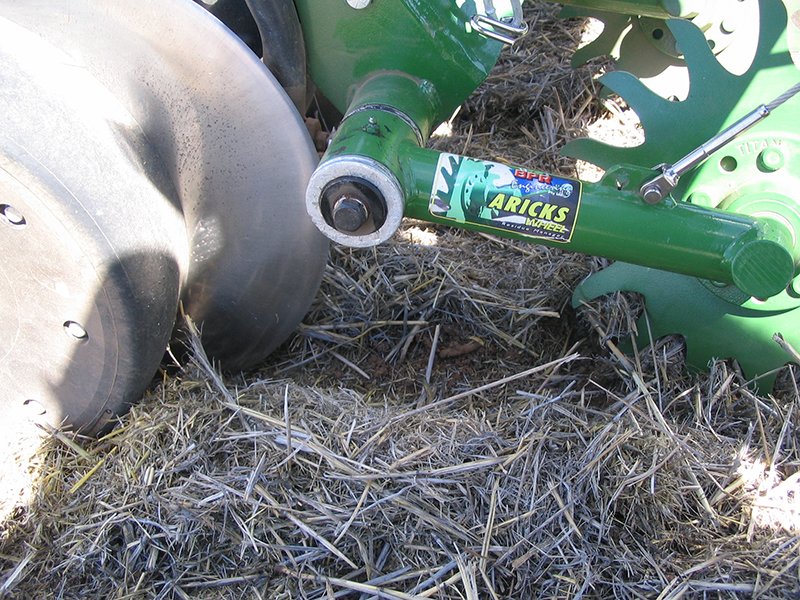 Perfect clearing through an incredible layer of thatch, but no soil is disturbed.  Note: This was an early version — the mounting & arm are now heavy-duty castings and the bearing has been upsized — extremely robust.  These have been on the market for 10 years in Australia!
"We've had them 4 years, and had only one bearing go out — on the outside end of the drill. Other than that, they've been trouble-free. No plugging in irrigated stubble. Sometimes a little wrapping in hemp stubble, so we watch them close, but have never stopped a wheel…. They move about 70 – 95% of the residue that we'd like them to move. A lot better than nothing."
"Aricks wheels really do eliminate hairpinning and improve the seed-to-soil contact greatly. And I can sow longer at night when conditions become damp."
"I bought my 40-ft JD 1890 in 2010, and in 2016 I bought Aricks residue managers. The results I had sowing into dry heavy stubble were amazing — I could see the difference the residue managers made immediately — it was a great result. They should come standard on all JD disc machines — it's a no brainer. I wish I had put them on 7 years ago."
"I've had them on my 1895 for 7 or 8 years, covering 40,000 – 50,000 acres. They work. I couldn't imagine not having them. They extend the number of days we can work — we can get on soft fields sooner [when cutting would be a problem]. The sort of days we can pick up are after a light shower that dampens the straw but not the soil. We can also start earlier each morning and go later in the evening…. I'm impressed the condition they are in after so many acre…. No problems in soybean, canola, field pea, faba bean, or flax stubble. No problems in cereals harvested with a stripper head. But in corn stalks, we had to lock them up."
Aricks Row Cleaners Videos
Dry sowing (dusting in), southern NSW Riverina
Aricks row cleaners in sorghum stubble in Australia.
John Deere 1890 using Aricks row cleaners
Download Installation Instructions