[et_pb_section fb_built="1″ module_class="ex_bc" _builder_version="4.6.5″ _module_preset="default"][et_pb_row _builder_version="4.6.5″ _module_preset="default"][et_pb_column type="4_4″ _builder_version="4.6.5″ _module_preset="default"][et_pb_wc_breadcrumb _builder_version="3.0.47″][/et_pb_wc_breadcrumb][/et_pb_column][/et_pb_row][/et_pb_section][et_pb_section fb_built="1″ fullwidth="on" admin_label="section" module_class="ex_sl" _builder_version="4.6.5″][et_pb_fullwidth_slider _builder_version="4.6.5″ background_position="top_left" auto="on" remove_inner_shadow="off" hide_content_on_mobile="off" hide_cta_on_mobile="off" show_inner_shadow="on" button_text_size__hover_enabled="off" button_one_text_size__hover_enabled="off" button_two_text_size__hover_enabled="off" button_text_color__hover_enabled="off" button_one_text_color__hover_enabled="off" button_two_text_color__hover_enabled="off" button_border_width__hover_enabled="off" button_one_border_width__hover_enabled="off" button_two_border_width__hover_enabled="off" button_border_color__hover_enabled="off" button_one_border_color__hover_enabled="off" button_two_border_color__hover_enabled="off" button_border_radius__hover_enabled="off" button_one_border_radius__hover_enabled="off" button_two_border_radius__hover_enabled="off" button_letter_spacing__hover_enabled="off" button_one_letter_spacing__hover_enabled="off" button_two_letter_spacing__hover_enabled="off" button_bg_color__hover_enabled="off" button_one_bg_color__hover_enabled="off" button_two_bg_color__hover_enabled="off"][et_pb_slide image="https://www.exapta.com/wp-content/uploads/2018/08/Remote-mount-on-Seedhawk.jpg" use_bg_overlay="off" use_text_overlay="off" admin_title="heat exchange" _builder_version="4.6.5″ background_color="#ffffff" background_image="https://www.exapta.com/wp-content/uploads/2015/06/slide-background.jpg" button_on_hover="on" background_layout="light" button_text_size__hover_enabled="off" button_one_text_size__hover_enabled="off" button_two_text_size__hover_enabled="off" button_text_color__hover_enabled="off" button_one_text_color__hover_enabled="off" button_two_text_color__hover_enabled="off" button_border_width__hover_enabled="off" button_one_border_width__hover_enabled="off" button_two_border_width__hover_enabled="off" button_border_color__hover_enabled="off" button_one_border_color__hover_enabled="off" button_two_border_color__hover_enabled="off" button_border_radius__hover_enabled="off" button_one_border_radius__hover_enabled="off" button_two_border_radius__hover_enabled="off" button_letter_spacing__hover_enabled="off" button_one_letter_spacing__hover_enabled="off" button_two_letter_spacing__hover_enabled="off" button_bg_color__hover_enabled="off" button_one_bg_color__hover_enabled="off" button_two_bg_color__hover_enabled="off" sticky_transition="on"]

Smallaire Heat Exchanger
Dries air going through product delivery system
Prevents gunk buildup (fertilizer dust, seed treatments)
Cools hydraulic oil substantially
Robust design
Call to order 785-820-8000
[/et_pb_slide][et_pb_slide image="https://www.exapta.com/wp-content/uploads/2018/08/smallaire-Riser-pipe.png" use_bg_overlay="off" use_text_overlay="off" admin_title="riser pipe" _builder_version="4.6.5″ background_color="#ffffff" background_image="https://www.exapta.com/wp-content/uploads/2015/06/slide-background.jpg" button_on_hover="on" background_layout="light" button_text_size__hover_enabled="off" button_one_text_size__hover_enabled="off" button_two_text_size__hover_enabled="off" button_text_color__hover_enabled="off" button_one_text_color__hover_enabled="off" button_two_text_color__hover_enabled="off" button_border_width__hover_enabled="off" button_one_border_width__hover_enabled="off" button_two_border_width__hover_enabled="off" button_border_color__hover_enabled="off" button_one_border_color__hover_enabled="off" button_two_border_color__hover_enabled="off" button_border_radius__hover_enabled="off" button_one_border_radius__hover_enabled="off" button_two_border_radius__hover_enabled="off" button_letter_spacing__hover_enabled="off" button_one_letter_spacing__hover_enabled="off" button_two_letter_spacing__hover_enabled="off" button_bg_color__hover_enabled="off" button_one_bg_color__hover_enabled="off" button_two_bg_color__hover_enabled="off" sticky_transition="on"]

Smallaire riser pipes & conversion heads
Enlarged elbow to properly disperse product
Tremendous durability
Uniform product going to each opener
[/et_pb_slide][/et_pb_fullwidth_slider][/et_pb_section][et_pb_section fb_built="1″ module_class="ex_vc" _builder_version="4.6.5″ _module_preset="default"][et_pb_row _builder_version="3.25″ background_size="initial" background_position="top_left" background_repeat="repeat" width="100%" custom_padding="0px||0px||false|false"][et_pb_column type="4_4″ _builder_version="3.25″ custom_padding="|||" custom_padding__hover="|||"][et_pb_wc_cart_notice _builder_version="3.0.47″][/et_pb_wc_cart_notice][/et_pb_column][/et_pb_row][/et_pb_section][et_pb_section fb_built="1″ _builder_version="3.22″ custom_padding="0px||||false|false"][et_pb_row column_structure="1_2,1_2″ _builder_version="3.25″ background_size="initial" background_position="top_left" background_repeat="repeat" width="100%" custom_padding="0px||||false|false"][et_pb_column type="1_2″ _builder_version="3.25″ custom_padding="|||" custom_padding__hover="|||"][et_pb_wc_images _builder_version="3.0.47″][/et_pb_wc_images][/et_pb_column][et_pb_column type="1_2″ _builder_version="3.25″ custom_padding="|||" custom_padding__hover="|||"][et_pb_wc_title _builder_version="3.0.47″][/et_pb_wc_title][et_pb_wc_rating _builder_version="3.0.47″][/et_pb_wc_rating][et_pb_wc_price _builder_version="3.0.47″][/et_pb_wc_price][et_pb_wc_description _builder_version="3.0.47″][/et_pb_wc_description][et_pb_wc_add_to_cart _builder_version="3.0.47″][/et_pb_wc_add_to_cart][et_pb_wc_meta _builder_version="3.0.47″][/et_pb_wc_meta][/et_pb_column][/et_pb_row][et_pb_row _builder_version="3.25″ background_size="initial" background_position="top_left" background_repeat="repeat" width="100%"][et_pb_column type="4_4″ _builder_version="3.25″ custom_padding="|||" custom_padding__hover="|||"][et_pb_wc_tabs _builder_version="3.0.47″] [/et_pb_wc_tabs][et_pb_wc_upsells _builder_version="3.0.47″][/et_pb_wc_upsells][et_pb_wc_related_products _builder_version="3.0.47″][/et_pb_wc_related_products][/et_pb_column][/et_pb_row][/et_pb_section][et_pb_section fb_built="1″ admin_label="section" _builder_version="3.22″][et_pb_row admin_label="row" _builder_version="3.25″ background_size="initial" background_position="top_left" background_repeat="repeat"][et_pb_column type="4_4″ _builder_version="3.25″ custom_padding="|||" custom_padding__hover="|||"][et_pb_text _builder_version="3.27.4″ text_font_size="16″ background_size="initial" background_position="top_left" background_repeat="repeat" text_orientation="center" module_alignment="center" use_border_color="off" border_color="#ffffff" border_style="solid"]
Prevent hydraulic oil from overheating caused by your air drill. Even if it's not overheating to the extent that it's shutting down your tractor, high temperatures break down hydraulic oil faster, and shorten the life of pumps and seals. You really want it to stay below 180 F, and preferably cooler yet.
There are plenty of farmer-built hydraulic oil coolers out there (in Australia, everyone runs them). But you can go one step further: instead of venting that heat into the atmosphere, you can use it to warm and dry the air going through the air delivery system. This has the advantage of reducing moisture in the lines, and helping to eliminate gunk buildup from fertilizer dust and seed treatments.
For a robust "heat exchanger" that's designed specifically for this, check out our Smallaire unit. The universal, remote-mount version fits nearly any air cart (radiator attaches to frame using u-bolts, etc—this is do-it-yourself engineering, often quite simple, except for the JD 1910 carts where we have a special bracket/stand that is ready to go—see info below). Note that nearly all Australian air cart manufacturers (there are dozens) use remote-mount radiators rather than fan-mount, which results in less stress on the fan housing while allowing larger, heavier-duty radiators to be used—ours is 24 x 28″, and extra thick—nearly twice as big as some units on the market. Remote-mount radiators use flexible ducting to mount the unit higher up than the fan intake, to draw cleaner air (cuts down on dust and chaff clogging the heat radiator).
We don't keep many, and it takes about four weeks to get them in from Australia, so plan accordingly. Don't get sidelined in the heat, or with gunk accumulation in your air delivery system (especially secondary diffusers and distribution heads, dusty fertilizers, or high humidity).
[/et_pb_text][/et_pb_column][/et_pb_row][et_pb_row column_structure="1_2,1_2″ admin_label="row" _builder_version="3.25″ background_size="initial" background_position="top_left" background_repeat="repeat"][et_pb_column type="1_2″ _builder_version="3.25″ custom_padding="|||" custom_padding__hover="|||"][et_pb_text module_class="compact" _builder_version="3.27.4″ background_size="initial" background_position="top_left" background_repeat="repeat" text_orientation="center" module_alignment="center"]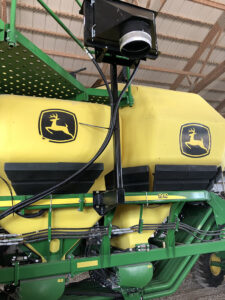 Get the Kit
We're pleased to announce that we now have a kit to make installing our Smallaire heat exchanger much easier and more streamlined on JD 1910 carts, both tow-behind and tow-between. Note: flexible ducting not installed in photos.
[/et_pb_text][/et_pb_column][et_pb_column type="1_2″ _builder_version="3.25″ custom_padding="|||" custom_padding__hover="|||"][et_pb_text module_class="compact" _builder_version="3.27.4″ background_size="initial" background_position="top_left" background_repeat="repeat" text_orientation="center" module_alignment="center" use_border_color="off"]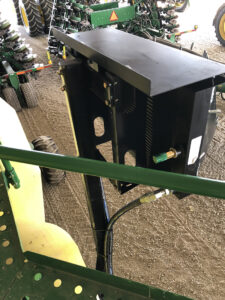 Heat Exchanger Stand
The kit includes a rugged stand (bracket) that bolts onto the cart frame in a way that positions the radiator high up to draw clean air (away from dust and chaff swirling around down closer to the ground behind the drill and cart tires), as well as providing easy access to the radiator from the cart's catwalk. The kit also includes 3/4″ hydraulic hoses, fittings, and the flexible ducting and other parts to connect the radiator to the fan intake.
[/et_pb_text][/et_pb_column][/et_pb_row][/et_pb_section][et_pb_section fb_built="1″ _builder_version="3.22″][et_pb_row _builder_version="3.25″ background_size="initial" background_position="top_left" background_repeat="repeat"][et_pb_column type="4_4″ _builder_version="3.25″ custom_padding="|||" custom_padding__hover="|||"][et_pb_text admin_label="Related Products Header" _builder_version="3.27.4″ background_size="initial" background_position="top_left" background_repeat="repeat"]
Related Products
[/et_pb_text][/et_pb_column][/et_pb_row][et_pb_row column_structure="1_3,1_3,1_3″ _builder_version="3.25″ background_size="initial" background_position="top_left" background_repeat="repeat"][et_pb_column type="1_3″ _builder_version="3.25″ custom_padding="|||" custom_padding__hover="|||"][et_pb_text admin_label="Related Product" _builder_version="3.27.4″ background_size="initial" background_position="top_left" background_repeat="repeat" module_alignment="left" border_color_all="#ffffff" use_border_color="off" border_color="#ffffff" border_style="solid"][related_product sku="SVU.JD1″]
[/et_pb_text][/et_pb_column][et_pb_column type="1_3″ _builder_version="3.25″ custom_padding="|||" custom_padding__hover="|||"][et_pb_text admin_label="Related Product" _builder_version="3.27.4″ background_size="initial" background_position="top_left" background_repeat="repeat" use_border_color="off" border_color="#ffffff" border_style="solid"][related_product sku="SMA.Riser63″]
[/et_pb_text][/et_pb_column][et_pb_column type="1_3″ _builder_version="3.25″ custom_padding="|||" custom_padding__hover="|||"][et_pb_text admin_label="Related Product" _builder_version="3.27.4″ background_size="initial" background_position="top_left" background_repeat="repeat" use_border_color="off" border_color="#ffffff" border_style="solid"][related_product sku="SMA.HeadS6″]
[/et_pb_text][/et_pb_column][/et_pb_row][/et_pb_section][et_pb_section fb_built="1″ admin_label="section" module_id="supplemental-content" _builder_version="3.22″ background_color="#cdcfcd" transparent_background="off"][et_pb_row _builder_version="3.25″ background_size="initial" background_position="top_left" background_repeat="repeat"][et_pb_column type="4_4″ _builder_version="3.25″ custom_padding="|||" custom_padding__hover="|||"][et_pb_text _builder_version="3.27.4″]
Videos
[/et_pb_text][/et_pb_column][/et_pb_row][et_pb_row column_structure="1_3,1_3,1_3″ admin_label="row" _builder_version="3.25″ background_size="initial" background_position="top_left" background_repeat="repeat"][et_pb_column type="1_3″ _builder_version="3.25″ custom_padding="|||" custom_padding__hover="|||"][et_pb_video src="https://www.youtube.com/watch?v=ZZ0HRVA3RRQ" image_src="https://www.exapta.com/wp-content/uploads/2015/06/video-seed-vu.png" _builder_version="3.0.47″]
[/et_pb_video][/et_pb_column][et_pb_column type="1_3″ _builder_version="3.25″ custom_padding="|||" custom_padding__hover="|||"][et_pb_video src="https://youtu.be/J8h2_GmA3qk" image_src="https://www.exapta.com/wp-content/uploads/2018/01/smallaire-video-1.png" _builder_version="3.0.90″][/et_pb_video][/et_pb_column][et_pb_column type="1_3″ _builder_version="3.25″ custom_padding="|||" custom_padding__hover="|||"][et_pb_text _builder_version="3.27.4″]
Download Installation Instructions
Exapta's bracket for Smallaire heat-exchanger on JD 1910 carts
[/et_pb_text][/et_pb_column][/et_pb_row][/et_pb_section][et_pb_section fb_built="1″ admin_label="section" _builder_version="3.22″ background_color="#1c2123″ transparent_background="off"][et_pb_row column_structure="1_2,1_2″ admin_label="row" _builder_version="3.25″ background_size="initial" background_position="top_left" background_repeat="repeat"][et_pb_column type="1_2″ _builder_version="3.25″ custom_padding="|||" custom_padding__hover="|||"][et_pb_testimonial author="Greg Morrical" job_title="Beverly, KS" company_name="Exapta customer since '07 (Exapta Smallaire Heat Exchanger on JD 1910 air cart)" _builder_version="3.11.1″ background_size="initial" background_position="top_left" background_repeat="repeat" background_layout="dark" border_radii_portrait="on||||" use_border_color="off"]
"All in all, the Heat Exchanger did its job. It was noticeably warmer, drier air running through the system. Last year, some farmers had to stop seeding at times in the hot conditions due to hydraulic oil overheating, whereas I was able to keep going, even with an older tractor."
[/et_pb_testimonial][/et_pb_column][et_pb_column type="1_2″ _builder_version="3.25″ custom_padding="|||" custom_padding__hover="|||"][et_pb_testimonial author="Jamie Kouba" job_title="Regent, ND" company_name="Smallaire manifolds & riser pipes on 60-ft SeedMaster air drill" _builder_version="3.11.1″ background_size="initial" background_position="top_left" background_repeat="repeat" background_layout="dark" use_border_color="off"]
"I didn't think the [Smallaire distribution] head was going to be anything special, but they ended all of our plugging problems and we backed the fan speed off another 200 RPM. Never had a secondary hose come off, either. We got the [Smallaire] stainless risers from you, and they're an undervalued product. Great product, and I will buy again [for my other air drill]. Thanks!"
[/et_pb_testimonial][/et_pb_column][/et_pb_row][/et_pb_section]