by Ethan Begle, Sales & Engineering Representative
When dealing with starter fertilizer, the first discussion revolves around if it is worth the time and expense to apply with the planter. It is very easy to make things complicated with monitors and added mechanical openers that can distract from ensuring planting the seed is getting done in the best way possible. There are so few days of optimal planting conditions to where, if you feel that applying fertilizer with the planter is preventing you from getting planted in the ideal window, it would be best to apply fertilizer in a separate pass with low disturbance single disc openers. If you've had good results using fertilizer on the planter, working to make refilling faster or matching liquid capacities with seed capacity can help to make it more efficient.
Pop-up fertilizer can really help on those soils with low available phosphorous, especially in wheat which is more sensitive to lower P readings. A fast-emerging crop helps with early plant growth, which means an early canopy for weed control and a quicker maturing crop come fall. Pop-up fertilizer is an efficient way to get nutrients in the soil, since you are creating a furrow anyway. In-furrow ensures the roots will have access to those nutrients without relying on rain—and is better for the environment as they are less likely to be lost to runoff from heavy spring rains. Planting early is the best scenario for using pop-up, as cold soils will not cycle nutrients as quickly. The seedling contains its own starter of nutrients for the first few days until its first seminal roots can begin to uptake the sugars and nutrients needed. But until conditions get consistently warmer, it helps to have some readily available nutrients for the seedling.
There are two main options for applying in-furrow liquids with Exapta. You can apply ahead of, and below the seed with the Valion seed tube guard. Or after the seed is placed with the Keeton seed firmer. These use 0.25" OD tubing to apply up 15 gal/acre of liquid. The most common in-furrow rates are around 5 gal/acre, and this depends on the fertilizer being used. Check with suppliers for salt load as to how much is safe (less is better than more when it comes to seed safety).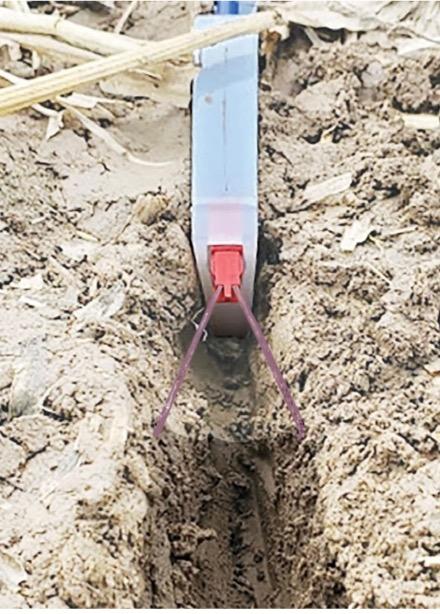 A common question is, "which option is better?" and it really comes down to your preference of which way you choose to apply the fertilizer. There have been no side-by-side comparisons of under vs on-top of-the-seed fertilizer placement taken to yield that give a definite advantage to either option. The in case of some liquids like fungicides/insecticides that must avoid direct contact with the seed, the Keeton offers a splitter to squirt to each side of the furrow. The main reason we recommend Keeton's over Valion's for applying in-furrow liquid is because putting some "sticky" fertilizers ahead of the Keeton can then adhere to the firmer, causing buildup. The benefit to the Valion is being able to use a much longer-lasting seed tube guard vs totally tubular. Either of these options are simple, low-cost ways to apply in furrow liquids. Other options out there include Rebounders, which do a good job of applying liquid in furrow, but they don't firm the seed. Furrow Jets are another new option for putting higher rates just off to the side of the furrow, but in no-till conditions, the wear life is questionable. The Keeton allows for in-furrow liquid while also firming the seed, which in no-tillage, is critical.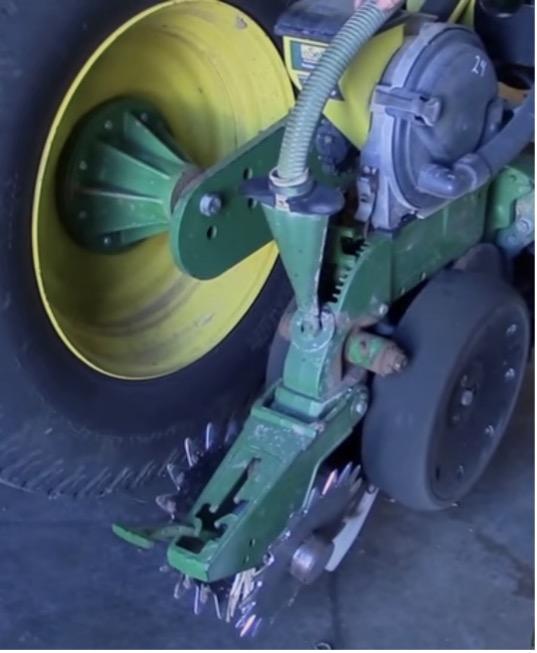 Higher rates of fertilizer will need to be applied 2 inches or further away from the furrow. There are simple ways to do this that don't involve a lot of wear parts. Alternately, there is an increasing number of attachments that can be added to get the fertilizer in the soil an inch or two. Banding at planting is an efficient way to get nutrients near the plant to spread some risk, if you are also planning to side dress the balance of nutrient needs later. Applying fertilizer closer to when the plants will need it is good for the pocketbook and the environment. As mentioned, when looking at attachments to get the fertilizer into the soil, consider maintenance and wear-life. No-till soils have more structure and take more down pressure for any type of disc or knife to penetrate. This is why using frame mounted fertilizer openers is best, so as not to rob opener down pressure. Applying ahead of or behind the closing wheels, to the side, is simple and requires much less maintenance and cost vs ground-engaging openers.
While liquid is the most popular, dry fertilizer still gets a lot of credit. A lot of great plains growers have the air cart already, so hooking it to the planter to get additional fertility close to the plant makes sense. You can apply higher rates of dry and not be worried about the seedling effects. Dry or liquid, the choice is yours. Consult your agronomist about what nutrients you should apply to take your crops to the next level. Exapta can help meet your in-furrow needs and offer advice on other systems out there.